This Day in History: January 13th- The Corvair, Nader, and Ernie Kovacs
This Day In History: January 13, 1962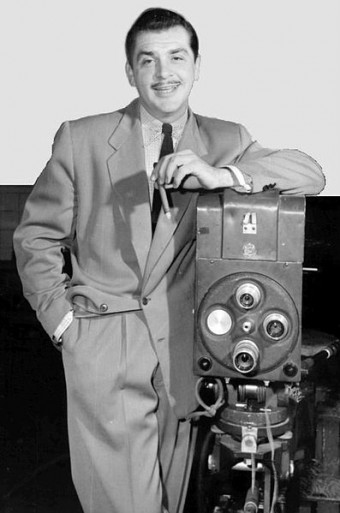 "Nothing in moderation – We all loved him." – Ernie Kovacs epitaph
On Jan 13, 1962, the immensely popular, cigar-puffing comedian Ernie Kovacs was killed in a car accident when he crashed into a telephone pole on his way home from a baby shower held for Mr. and Mrs. Milton Berle. Kovacs lost control of his Chevrolet Corvair at 2 a.m. in Los Angeles during a light rainstorm. He was 42 years old.
Kovacs was an innovative and groundbreaking comedian who influenced offbeat funny men such as Johnny Carson, Steve Martin and Conan O'Brien. A TV comedy pioneer, he had a series of television shows during the 1950s, where he played a host of zany and surreal characters.
As popular off camera in Hollywood as he was on, Kovac's pallbearers included Frank Sinatra, Jack Lemmon, Dean Martin and Billy Wilder. His widow Edie Adams was comforted by friends Groucho Marx, George Burns, Jimmy Stewart, Charlton Heston and Jack Benny, among many others.
Although his funeral looked like an Academy Awards red carpet, Ernie had left instructions to keep things simple in the event of his demise. His wishes were honored when the pastor officiating at his funeral summed up the comedian's life in two simple sentences: "I was born in Trenton, N.J. in 1919 to a Hungarian couple. I've been smoking cigars ever since."
The make of the vehicle that Ernie Kovacs died in also achieved a certain fame of its own. Consumer advocate Ralph Nader blew the lid off unsafe practices in the American auto industry in his 1965 book "Unsafe at Any Speed: The Designed-In Dangers of the American Automobile."
At the time Nader wrote and published his book, the auto industry was still mostly unregulated, and he accused car manufacturers of sacrificing consumer safety in favor of style and power. He singled out the Chevy Corvair, a vehicle produced by auto giant General Motors, as a car that was particularly known to have handling problems.
Nader testified before Congress in February 1966 about some of the issues raised in "Unsafe at Any Speed." Not long after, it was determined that GM had arranged to have Nader secretly followed around hoping to find dirt to discredit him. Nader sued GM for invasion of privacy and harassment – and won.
The adverse publicity wrought by these shenanigans made Nader's book a best seller and led to the passage of the 1966 National Traffic and Motor Vehicle Safety Act. This established safety standards at the federal level for every American produced car, including seat belts. The Chevy Corvair, already in a sales slump due to Nader's book and a slew of consumer lawsuits (the suspension system was responsible for many rollovers) was discontinued in 1969.
Sadly, Ernie Kovac's daughter also died in a car accident in 1982.
If you liked this article, you might also enjoy our new popular podcast, The BrainFood Show (iTunes, Spotify, Google Play Music, Feed), as well as:
Expand for References