When Did Teen Girls Stop Commonly Getting Married?
Jamie M asks: When did having young teenage girls marry stop being so widespread?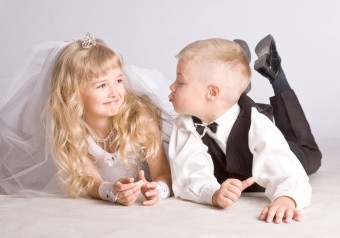 A long, long time ago.
Marriage in the Ancient World
In the Western world (and generally speaking) before imperial Rome, girls were deemed sufficiently mature for marriage and sex when they first started menstruation (and boys, by the way, when they developed pubic hair). Marriage was relatively unregulated by the state then, and instead was seen as a private family matter, so it is presumed these boundaries were flexible.
The Roman emperors began to take matters in hand beginning with Caesar Augustus' marriage laws (18 BC and 9 AD):
He ordered that no betrothal should be valid if the man did not marry within two years of such betrothal . . . [and] that the girl must in every case be at least ten years old at her betrothal . . . . girls are held to have reached the marriageable age on the completion of twelve full years.
By the end of the empire, the age of consent for girls had been well settled, as the "official" age of reaching puberty was set at 12.
Medieval Marriage
The Catholic Church had rules for just about everything during the Middle Ages, and one of its most authoritative texts was the Decretum Gratiani. Written by the jurist Johannes Gratian in the 12th century, it set a minimum age for betrothal (not necessarily marriage) at seven years for boys and girls, and the lawful age for a woman to consent to marriage (and "carnal intercourse") at twelve, although certain unusual circumstances would render marriages at younger ages valid, as well.
Gratian was followed by others including Hostiensis (Henricus de Seguisio) who opined that a young woman's physical development, not her age, should determine whether she was ready for marriage.
Recent scholarship indicates that although medieval marriages could occur at ages as young as 12, that might not have been the norm:
While marriages at very young ages could and sometimes did take place, particularly for girls of high social status, it would be a mistake to see marriage below or around the age of puberty as the norm even for young noblewomen. . . . Emerging evidence is eroding the stereotype . . . [with] work on low- and lower-middle-status women [showing that] . . . a large proportion of the sample married between the ages of eighteen and twenty-two, [and] . . . showing that urban girls [in Yorkshire] tended to marry in their early to mid-twenties and rural girls . . . in their late teens to early twenties.
Marriage in Early America
A study performed by the National Bureau of Economic Research (NBER) on marriage in North America and Western Europe mirrors the findings of the Yorkshire researchers; the NBER found that young women from the 17th through 19th centuries were not all that young when they got married.
For example, in Massachusetts records dating from 1652 to 1800 demonstrate that the mean age of first marriage for ladies was between 19.5 and 22.5 years, and records for other colonies reflect similar ages. In fact, the average age of first marriage for all of the colonies studied was 19.8 before 1700, 21.2 during the early 18th century, and 22.7 during the late 18th century.
This is consistent with data gathered in England, France and Germany that puts the average mean age of first marriage for women at 25.1 from 1750-1799 and 25.7 from 1800-1849.
Marriage Post Civil War
Maintaining the trend, by the end of the 19th century, the median age when women were first getting married was between 22 and 24 years old, and this tendency continued into the 1940s.
In fact, the lowest median age of first marriage since the early 1700s was had by the baby boom generation, where the age dropped to 20.5 years in 1950.
Marriage Age Today
As of 2010, the median age of first marriage for women was 26.1 (28.2 for men), although research demonstrates that "marriage is most often delayed rather than foregone," and although they may wait awhile, "more than 90 percent of women will eventually marry."
Researchers note that the median age in 2010 was 3.4 years higher than in 1900, and opine that this "likely reflects the change in women's status in society – as women are pursing education and careers before marriage . . . they are increasingly delaying the age at which they marry."
If you liked this article, you might also enjoy our new popular podcast, The BrainFood Show (iTunes, Spotify, Google Play Music, Feed), as well as:
Bonus Facts:
Expand for Further References