This Day in History: January Tenth
Today in History: January 10, 1642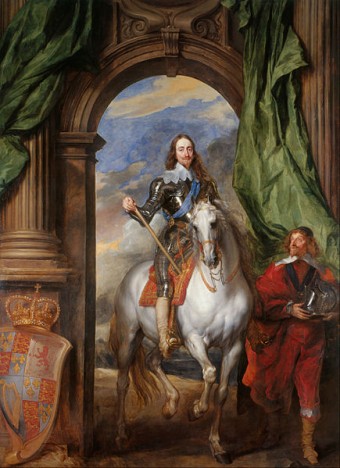 On January 10, 1642, King Charles and his family made their way to Oxford in fear of their lives, as the English Civil War commenced leading to the eventual execution of the King in 1649.
Charles was the son of James VI of Scotland, who became King of England when Elizabeth I died in 1603. Charles became king in 1625, and three months later married Henrietta Maria of France. They had five children and enjoyed a very happy union.
Though things were happy for Charles on the home front, from the very beginning of his reign it was one headache after another. His good buddy George Villiers, Duke of Buckingham, was universally detested by the rest of the nobility for being a weasel of epic proportions, and he was assassinated in 1628.
Charles and Parliament were also constantly at odds over money. Debt was growing at an astronomical rate. The Stuart monarchs were not known for their thrift, and Charles I was especially extravagant. Works of art by Raphael and Titian and foreign wars do not come cheaply after all.
A more ominous concern was the religion of the Queen. Catholic plots against the life of Elizabeth I and Guy Fawkes' antics were still fresh in England's memory, so the King's choice of a bride, though personally rewarding, was politically questionable at best.
Between 1625 and 1629, Charles dissolved Parliament a total of three times. In 1629, he went so far as to dismiss Parliament with the intention of ruling alone. This was a very unpopular move. Further, it was necessary for the King to raise taxes in unorthodox ways such as wardship, forest laws and forced loans. These tactics made his subjects that might otherwise have supported him turn against him.
Then in 1637, Charles imposed a High Church liturgy book that caused rioting in Edinburgh, forcing the King to recall Parliament, ending his solo rule. Things got even trickier in November 1641 when tempers flared over who should handle an uprising in Ireland.
By January 4, 1642, Charles was fed up and ordered that five members of his disagreeable Parliament be arrested. When that didn't work out quite as he had hoped, he headed for the safety of Oxford on the 10th. By August of that year, the Civil War was in full swing.
Charles surrendered to the Scots in 1646, who in turn delivered him to Parliament. He escaped to the Isle of Wight a year later, but this "Second Civil War" was over before the year was out thanks to Parliamentarian General Oliver Cromwell.
Noting the King's ability to escape and his ability to muster Loyalist troops, a group of radical MPs decided he would always be a danger while he lived, and Charles was put on trial for treason. He was found guilty (no surprise there) and executed on January 30, 1649.
If you liked this article, you might also enjoy our new popular podcast, The BrainFood Show (iTunes, Spotify, Google Play Music, Feed), as well as:
Expand for References