Do Moths Really Eat Clothes?
Gracen asks: Do moths really eat clothes?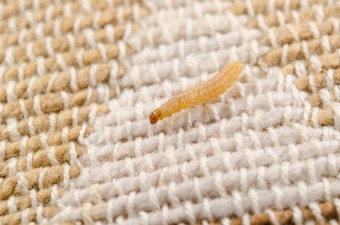 The common "clothes moth", "clothing moth" or to give its street name, Tineola bisselliella, doesn't actually eat clothes. In fact, clothing moths don't even possess the ability to eat- they don't have a mouth. Once they become a moth, rather than waste their time eating, they simply mate, the female lays her eggs, and then they die at some point. Meaning the most damage to your clothes you could realistically expect from an adult clothing moth is a stain if you go postal on one with a newspaper.
So how did these moths get associated with eating clothes?  It's the moth babies you need to be wary of, which are able to get proteins they need from keratin- in other words, virtually any organic fibre derived from an animal.  And boy do those things have an appetite. The full list of things clothes moth larvae can eat is pretty insane- basically they can eat and survive on virtually any natural fibre. They've been known to eat wool, cashmere, silk, cotton, linen, fur, feathers, hair, lint, carpets, the bristles of brushes, pet fur and even dust. On top of this, the larvae will also, if no food is present, cut, not eat through non-natural fibres like polyester to reach your ever dwindling supply of wool underwear.
The fibres the larva eats eventually also ends up becoming a part of the cocoon it spins for itself so it can become a moth and stop having to eat sweaty boxer shorts and get down to the much more fun act of mating.
If their voracious appetite isn't bad enough, the larvae are also notably hardy and difficult to kill through indirect means. For example, the larvae and eggs of a clothes moth can easily survive temperature extremes as high as 50 degrees Celsius (122 degrees F) and as low as -8 degrees C (17.6 degrees F) for short periods.  As such, it's recommended that you expose them to such extremes for at least a half an hour to really make sure they're all dead.
As explained above, larvae will straight up chew through whatever they need to in order to get to their food, which for the eagle eyed ones amongst you probably stood out as a little odd. If the adult moth sensed a wool sweater in a wardrobe, why would it lay its eggs on a spandrels Borat mankini? Well this is because the larvae and moths are actually drawn to the moisture in certain clothes because the larvae must get the moisture they need through their food. This is also the reason dry cleaning your clothes is an effective moth deterrent.
You might have guessed from this that clothing moths and their larvae are also attracted to dirty clothes, in particular ones dirtied by sweat, as sweat contains not only moisture but salt and other minerals the larvae needs to survive.
But, bottom line, the moths themselves aren't doing the damage, it is their children, which is also typically true for humans…
If you liked this article, you might also enjoy our new popular podcast, The BrainFood Show (iTunes, Spotify, Google Play Music, Feed), as well as:
Bonus Facts:
Rough estimates suggest a single clothes moth can lay anywhere between 50 and a 1000 eggs! If that wasn't terrifying enough, unlike virtually every other species of the moth family, clothes moths are naturally afraid of light and will shy away from it, hiding beneath tables, rugs, and skirting boards; let's face it, they are probably under the desk you're sitting at right now. 😉
Though conditions in a human household are invariably perfect or at least tolerable for a clothes moth and its kin, they are remarkably hardy when it comes to adjusting to changes in environment. For example, the larvae stage of a clothes moth's life can extend from 1 month to 29 months if the conditions for it to pupate aren't ideal. Just read that again, a clothes moth larvae can voluntarily extend its own life by 2900% if it doesn't sense ideal conditions.
The old adage of using cedar trunks for storing clothes to keep moths at bay actually works somewhat in the right circumstances. Why? Because cedar oil kills the larvae. However, as cedar ages the concentration of oil in it fades, and with it, it's ability to murder clothes moth babies.
There are several more sophisticated methods for dealing with moths on the market, our favourite being the pheromone trap that coats male moths with a powder that makes them appear female to other moths, effectively condemning them to a life of being unable to breed. This method, of course, is for the especially cruel individual who doesn't want to kill a moth, but rather force it to commit suicide through soul-crushing inadequacy. Boy, did this article take a turn for the dark side quickly.
Expand for References