Tarred and Feathered
Kelly C asks: What happens to a person when they are tarred and feathered? Do they die?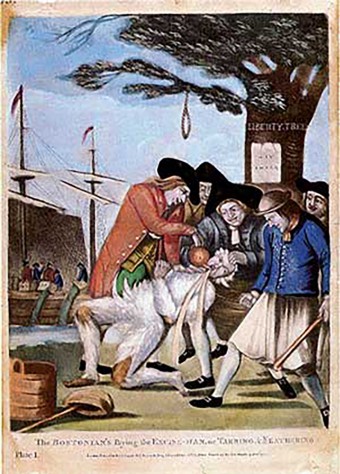 In times gone by, tarring and feathering was a go-to method used by mobs to punish or otherwise humiliate criminals or people believed to have wronged the community in some way.
While it's mostly recognised as being a punishment handed down in colonial times, the history of tarring and feathering stretches back all the way to the crusades and possibly further, with the earliest known recorded reference to the punishment being an edict passed down by Richard the Lionheart in 1189.
According to the King Richard's decree, if one of his soldiers was found stealing from his fellow crusaders, he was to be shaved and then coated in boiling pitch before having a "cushion of feathers" poured over his head; the thief would then be left stranded in whichever country they happened to anchor in next.
While the explicit wording King Richard used suggested that the punishment wasn't meant to be fatal, it's not difficult to see how pouring hot pitch over someone could prove deadly, especially in a time before antibiotics to treat inevitable infections from severe burns. The most common injuries from the tarring and feathering itself were indeed burns and blisters. After the individual was then thoroughly humiliated, perhaps by parading them around town in a nude or semi-nude state, he or she also tended to find it very difficult to get the tar and feathers off without potentially losing a little skin in the process, leaving behind a lasting testament to their shame in the forms of scars.
Because tarring and feathering was a punishment most often handed down by angry mobs, which aren't exactly known for their restraint, individuals subjected to the punishment were also sometimes severely beaten. For example, in 1832 a Mormon minister named Sidney Rigdon and his friend, none other than Joseph Smith himself, were almost killed when a mob dragged them from their homes in the dead of night, severely beat them while trying to force-feed them acid before tarring and feathering them and leaving them both for dead. Amazingly, both men were able to survive this horrifying ordeal. Unfortunately, Smith's baby, who was left exposed to the elements during the event, was not so lucky, dying shortly after.
From all this, you might be surprised to learn that most people who were tarred and feathered survived the ordeal.  How?
Well, in most cases the tarring and feathering was simply meant to humiliate the individual in question, not kill them.  As such, pine tar was commonly used, which has a relatively low melting point, typically around 130-140 degrees Fahrenheit (55-60 C); certainly hot enough to cause an exceptional amount of discomfort and burns, but nothing like the harm that would be caused by various forms of melted petroleum based tar. Further, depending on the severity of the perceived crime or slight against the masses, the pine tar may not, in some cases, be melted and then poured on, but simply heated a little and then roughly rubbed on the individual to leave enough residue on their skin for the feathers to stick- painful to be sure, but at least perhaps avoiding the burns.
So if the goal was to cause excruciating pain and death, boiling pitch or coal tar could be used, along with severe beatings. But given the very good survival rates we have record of, it would appear this was rarely what those administering the tar and feathers were going for; survivable pain and humiliation were the name of the game in most cases, both during the tarring and feathering and after, with the individual finding it exceedingly difficult to get the tar off. If the mob wanted to kill the person, they had more expedient and less elaborate methods for that, such as hanging.
If you liked this article, you might also enjoy our new popular podcast, The BrainFood Show (iTunes, Spotify, Google Play Music, Feed), as well as:
Bonus Facts:
During the American Revolution, mobs supporting both sides of the conflict made frequent use of tar and feathers. It's thought that tarring and feathering became the go-to punishment during colonial times partially because of the vast amounts of pine tar that was readily available in nearby shipyards. It has also been suggested that Patriots and British supporters were inspired to tar and feather one another because of how popular it was in 18th century England as a way of humiliating tax collectors who would often be paraded and dragged through the streets.

Even after the American revolution ended, tarring and feathering remained a popular form of mob "justice" right up through the first half of the 20th century. A particularly famous case is that of John Meints, a German-American farmer who in 1918 was dragged from his Minnesota home, whipped and threatened with guns before being tarred, feathered and forced to march half-naked across the border of the state to South Dakota. He was then told if he ever returned, he'd be killed. Meints later tried to sue the men who kidnapped and abused him, only for the jury to declare them innocent of all charges. The judge in the case, Wilbur F. Booth, even advised the jury that they should consider Meints disloyal to the United States in contemplating their verdict. You see, Meints had the audacity to be German-American around WWI. In the end, Meints was reasonably lucky to escape with his life considering how many comparable cases had ended with lynchings. Meints had the last laugh, though. In 1922, he was able to get a new trial and managed to settle the whole affair out of court, receiving $6,000 (about $84,000 today) in damages.

Over in Europe following WWII, women who'd dared to have relations with German soldiers were occasionally subjected to tarring and feathering, whilst in Ireland tarring and feathering was used extensively during the 1970s by the IRA to punish alleged criminals or women accused of fraternising with the British, which has inspired similar cases as recently as 2007!
Expand for References