How to Survive Being Buried Alive in a Coffin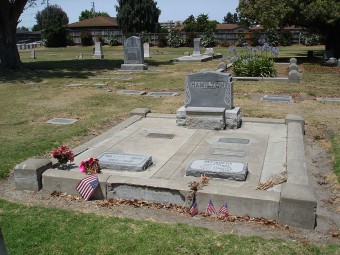 Today I found out how to survive being buried alive in a coffin.  Yesterday, I posted an article on taphophobia and I got an email from a reader wondering if I could write-up an article on the best ways to actually get out of a coffin, if you happen to find yourself buried alive in one.  So here goes.
First, DON'T PANIC!  Seriously, panicking will drastically reduce the time you have to work yourself out of this jam.  You'll use up all your oxygen quite quickly in this state and you likely don't have a lot of time to start with.  Typically you could survive for one or two hours before using up your oxygen, as long as you don't panic.  If you happen to be good at meditating, you could last quite a bit longer, such as the case of this man who survived nearly two hours on the air trapped in his helmet.  But of course in his case, he had people digging him out.  If you don't think anyone is coming to dig you out, then putting yourself in a deep meditative state probably wouldn't help you be able to extradite yourself from the situation; this would only prolong the inevitable.  Now try to relax yourself as much as possible.  The more relaxed you are, the longer you have to get yourself out and the clearer you will think.
Now, from here there are a few things you might do depending on your apparent situation. First, check to see what you have on you.  Increasingly these days, people are burying other people with their cell phones for some so that they can call them, at least while the battery lasts.  Personally, I think this is a little more depressing than anything, calling and never having them answer.  But this is good if your relatives did this.  If you've got this, flip it on and hope you have a signal and good battery life.  Once you get a hold of someone and you know they are coming, practice meditating and relaxing as much as possible to conserve oxygen.  Talking to them at length is not a good idea.  This will use up a lot of oxygen.  Make sure they know this is not a hoax and they are coming with everything from a shovel to the National Guard, then hang up and relax.  One simple meditation anyone can master is to simply repeat some word over and over again in your head slowly; might I suggest "Vacca Foeda".
Don't have a cell phone?  If your relatives were cheap, they buried you in a nice flimsy coffin.  This is nearly the best case scenario.  If you get out of this, you'll be forever thankful for the cheap construction of your presumed final resting place.  Given the weight of the 6 feet or so of earth above you, your coffin might have already caved in one place or another.  This is a good thing.  If this has happened, you are literally almost home free (unless you are really short, then you have a bit more work to do).  Odds are, considering you are still alive in your coffin with limited air supply, you weren't buried that long ago.  So the earth should be quite loose.
Now,  take off your shirt most of the way by pulling it up over your head so it comes off inside out, but doesn't come all the way off (think hockey fight); so that your shirt is basically now just inside out over your head.  Now tie off the shirt at the top so it is sealed.  At this point, you've basically made a "bag" out of your shirt that your head is now in.  This is to help protect you from breathing in dirt.
If your coffin hasn't already been breached by the weight of the earth above, use your legs to kick an opening somewhere in the coffin.  Generally, the best place will be around the middle of the coffin which is usually the weakest point in terms of being able to hold weight.  Best to keep your head and torso close to the opening to make sure you don't accidentally get stuck in the coffin where you can't move around because of all the dirt.
If you are buried in a typical cheap coffin, it shouldn't actually be that hard to breach as the weight of the earth above will already be bowing the top board quite a bit; it is even somewhat likely that the earth has already breached the cheap coffin somewhere, without need of your help;  if you feel dirt in the coffin, thank your lucky stars because the hardest part is accomplished already.   If not, you'll want to kick has hard as you can to try to get the board flexing.  You won't be able to move the board much because of the weight of the earth, but that's fine.  You mainly just want to make that weight of the earth work for you by kicking the board and hopefully having the weight of the earth flex the board down more every time until it breaches.
Once you have successfully breached the coffin, use your legs and hands to push the earth coming in towards the edges of the coffin.  Fill the coffin as much as possible with dirt, packing it in, without losing the ability to be able to get your head and torso out of the hole, head first.
Once you've packed in as much dirt as you can, simply get your head near the breach and use all your strength to stand up with your arms straight up; you may need to make the breach bigger as you do so, but this shouldn't be too hard with a cheap coffin.  As you are doing this, try to get one leg up out of the coffin so you can further push yourself up by standing on the outside parameter edge of the coffin lid.
If you are buried around 6 feet deep and are anywhere from 5 feet tall or above, you should be able to not only have your arms break the surface at this point, but also have your head break the surface due to the fact that you pushed a foot or two of earth into your coffin.  Now getting yourself completely out may take a little time without help, but considering the earth should be fairly lose, should be one of the easier things you just had to do.
Once your head has broken the surface and you can freely breathe, feel free to let yourself panic a bit if you need to and scream your head off, perhaps cackling madly; I mean, you are about 95% there at managing to escape being buried alive.  I think a good healthy manic mad cackle is in order.  Go ahead;  I'll wait…  Now that that's done, if no one has come to your rescue, go ahead and worm yourself out as best you can using your arms to pull yourself out, wriggling your body as you go to further loosen the earth holding  you in.
Now you might be saying to yourself, "My relatives aren't cheap, they'll bury me in a fancy stainless steel coffin".  Well, I'm sorry to say, you are probably screwed then.  They wasted a lot of money on an expensive coffin for what they thought was just a carcass and now not only was it a waste of resources, it will spell your ultimate demise.  The best you can do in this case is to try to tap loudly on the metal with some piece of medal such as a belt buckle or the like.  Then hope someone is still hanging around your grave site.  This isn't totally unlikely considering you couldn't have been there long considering you still have air to breathe.  Still probably best not to yell at this point as it would quickly diminish your oxygen supply and probably cause you to start panicking.  Best to tap as loud as you can in some pattern, so someone on the surface knows you are still alive.  If you have nothing to tap with, feel free to panic and yell now.  You are probably going to die anyways, might as well go out losing your mind (really, better than going out sane as asphyxiation is not pleasant from all accounts).
If your family was really nice and wealthy, they'll have buried you in a "safety coffin".  These coffins are equipped with means of letting yourself out safely or means of notifying the outside world you are in fact still alive.  In either case, these tend to always come with some sort of lighting device that doesn't consume oxygen, like a flashlight.  Use it and you'll likely find whatever is needed to allow you to alert the outside world that your death was greatly exaggerated.  Note, it is generally not a good idea to light a match or a lighter if you have one.  Not only might you catch yourself on fire, but you'll use all the oxygen in the coffin extremely quickly this way.
Now, if you've gotten to this point and still haven't gotten out, you should continue trying the above until you start to feel yourself asphyxiate.  At this point, you have two choices.  First, continue on as before and eventuality succumb to the lack of oxygen.  This is pretty much universally thought of as a pretty horrible way to die as you've got plenty of air you'll be breathing in filling your lungs, but little to no oxygen.  It's a very slow way to die and quite unpleasant from all accounts.  Second, you could always try to end it a little quicker.  If you've got a pen or something handy, feel free to stab yourself in the throat.  One quick thrust to your carotid artery (either on the left or right of your neck, pick one!) and you'll be dead in no time.  No pen or any other device to bleed yourself with?  Well, you've probably got teeth at least…  As this article has turned a bit morbid *ha morbid*, I'll just say, "use your imagination".  Don't have a good imagination?  Think wrists.
There is of course also always the chance of divine intervention.  Even if you aren't normally a "praying man", might I suggest that in this case, you've got absolutely nothing to lose in becoming one, and who knows maybe even something to gain even if things don't work out. 😉  I'd recommend avoiding offering God anything if he'll get you out though.  People do this all the time and it makes no sense.  I mean really, if there is a God, what could you possibly offer him that he doesn't already have or couldn't get himself?  It would be like trying to come up with gift ideas for Bill Gates, but times a bagillion.  Better to just ask out of mercy or grace for help and possibly forgiveness of any wrongs you might have done in your lifetime (just in case).  He might feel sorry for you and help it end quicker than normal asphyxiation or help you get out; either is win/win 🙂
Bottom line, what you want to try to do is some how some way make an opening in the coffin large enough for you to fit through.  You do that and you have a good shot at making it out of this alive.  Once you have an opening, unless you are a midget, getting out or at least getting your head above the surface, will literally be as easy as standing up.  If it is raining hard around the time of your burial, things could be more difficult of course.  But by trapping as much earth as possible in the coffin, you should still be able to stand up and break your head free of the surface at the least; from this point, if it's sufficiently muddy, you may require someone's aid to extradite yourself the rest of the way.  But at least if you die this way, it won't be of asphyxiation.  So you've improved your situation at the least.  Good luck!
Now may I echo the sentiment that Lord Chesterfield made to his daughter-in-law in a letter on March 16, 1769:
"All I desire for my own burial is not to be buried alive".
If you liked this article, you might also enjoy our new popular podcast, The BrainFood Show (iTunes, Spotify, Google Play Music, Feed), as well as:
Expand for References: