The Hit Man
Even if you've never heard of Otis Blackwell, you've almost certainly heard his music—he was one of the most influential songwriters of the 20th century. Here's the story of the most famous songwriter most people have never heard of.
TIGHT CHRISTMAS
In the mid 1950s, Otis Blackwell was a struggling songwriter who pressed pants in a New York City tailor's shop during the day to make ends meet. He'd been selling songs since he was a teenager and had made a few contacts, but he just wasn't making it in the business.
On Christmas Eve 1955, he was so broke that he went and stood on the sidewalk in front of the famous Brill Building (then the unofficial headquarters of the American recording industry), in the hope of spotting someone he knew and cajoling them into buying a song or two so that he'd have some money for Christmas.
"I was standing outside the building with no hat and holes in my shoes. And it was snowing," Blackwell told an interviewer in 1979. When Leroy Kirkland, an arranger for a popular rhythm and blues artist named Screamin' Jay Hawkins, walked up, Blackwell asked if he could sing him a few of the songs he'd written.
COME ON IN
It was Christmas Eve, after all, so Kirkland gave Blackwell a quick listen…and was impressed enough that he invited Blackwell into the building and introduced him to Al Stanton, who worked for a company called Shalimar Music. Stanton not only bought six songs on the spot for $25 apiece, about $220 today, (an advance against future royalties), he signed Blackwell to a publishing contract and gave him some space to work in the office.
Not a bad day's work, but the really big news came two weeks later when the president of Shalimar, Aaron "Goldie" Goldmark, called Blackwell and told him that RCA was interested in one of the $25 songs, the one titled "Don't Be Cruel." They wanted it for one of their rising young stars—a 20-year-old singer named Elvis Presley.
"I said, 'Who is Elvis Presley?'" Blackwell remembered years later. "But Goldie said not to worry, because the kid was hot."
ELVIS, IMPERSONATOR
It was a common practice in the music industry for writers to create quickie "demo" records of their songs to make it easier for the recording artists to pick the ones they wanted. Unlike many songwriters, Blackwell was also a talented pianist and singer, so he recorded his own demo of "Don't Be Cruel" instead of having studio musicians do it, which was how demos were usually recorded. He played the piano, sang, and beat on a cardboard box to simulate the sound of drumming.
If you were a recording star and didn't know how to read music, how would you learn a new song? Elvis couldn't read music, so he listened to the demo tape of "Don't Be Cruel" over and over again until he'd committed the notes, the lyrics, and all of the subtleties of Blackwell's performance to memory. It took him 28 takes to do it, but when he finished, Elvis had recorded a single that was for all intents and purposes an exact imitation of Blackwell's performance on the demo tape.
But Blackwell didn't just pen a song for the impressionable artist who would soon become the king of rock 'n' roll, he was also instrumental in helping him develop the singing style that would put him on top.
B IS FOR BLOCKBUSTER
"Don't Be Cruel" was released on the B-side of another Elvis song titled "Hound Dog." In those days B-side songs were like B movies: RCA saw "Don't be Cruel" as second-rate compared to "Hound Dog," and unlikely to get a lot of airplay or become a hit. That was why they didn't release it as a single on its own.
RCA couldn't have been more wrong—"Don't Be Cruel" not only went to #1 on Billboard magazine's pop singles chart just like "Hound Dog" did, it spent nine weeks in the top slot, compared to four for "Hound Dog." "Hound Dog/Don't Be Cruel" went on to become the most successful double-sided single in pop-music history. Blackwell didn't do too badly, either—by the time the next Christmas Eve rolled around, he'd earned more than $80,000 (about $700,000 today) in royalties from his $25 song.
Blackwell must have felt that he was the one who'd gotten a big break that day when Leroy Kirkland brought him in from the snow, but in truth it was Shalimar Music that had really scored, because Blackwell soon revealed himself as one the most talented and prolific songwriters the industry had ever seen. He became known within the Brill Building as a guy who could write a song about anything.
Anything? Legend has it one day Al Stanton put that claim to the test after he dropped a bottle of Pepsi he'd bought from the vending machine. Now it was too fizzy to open—if he popped the top he would have sent soda spraying everywhere—so he set the bottle down next to Blackwell and told him, "Write about this!"
Whether that's really the genesis of the song or just a story the studio made up after the fact, it, too, became a #1 hit and one of the biggest songs of Elvis's career.
Even the Post Office could serve as a source of inspiration for a song—in 1962 Blackwell co-wrote another one of Elvis's big hits after seeing the message "Return to Sender" stamped on a piece of mail that had been sent to the wrong address.
HOWDY, PARDNER
So how did Blackwell become such a prolific songwriter? An African American who grew up in a home that played and sang gospel music, he also developed an interest in rhythm and blues as a young man and was a huge fan of the singing cowboys in the movies, people like Gene Autry and especially Tex Ritter (father of John Ritter, who played Jack Tripper in the 1970s sitcom Three's Company). Blackwell liked the singing cowboys so much, in fact, that when he was a teenager he got a job sweeping up the local movie theater just so he could hang around and listen to them all day. "Like the blues, cowboy songs told a story, but it didn't have the same restrictive construction," he explained many years later. "A cowboy song could do anything."
BY THE BOOK
Blackwell's wide-ranging musical interests were fertile ground for the types of stories he wanted to tell with his own songs, and believe it or not comic books were what gave him the titles for many of his songs. He'd flip through stacks of romance comic books looking for catchy phrases that would make good song titles, and as soon as he found one he liked, he'd sit down and write a song to go with it. As for the lyrics, Blackwell believed that less was more: He figured that if the lyrics to a song were clear enough and simple enough for a five-year-old child to sing them, the song had a good shot at becoming a hit.
MUSIC MAN
Blackwell wrote or co-wrote "Great Balls of Fire" and "Breathless" for Jerry Lee Lewis (who copied Blackwell's demos just as closely as Elvis had), "Handy Man" for a singer named Jimmy Jones (James Taylor covered it in 1977), and more than 1,000 other songs that have been recorded by artists as diverse as Carl Perkins, Ray Charles, The Who, The Judds, Cheap Trick, Neil Diamond, Tanya Tucker, Otis Redding, Billy Joel, Frankie Valli, Mahalia Jackson, Pat Boone, and Dolly Parton.
Did Blackwell even write "Karma Chameleon" for Boy George and Culture Club? He certainly thought so—the chorus to "Karma Chameleon" was so similar to the chorus in "Handy Man" that he sued Culture Club in the mid-1980s for copyright infringement and reportedly won a small settlement. "We gave them 10 pence and an apple," Boy George joked in an interview.
DO IT YOURSELF
In all, Blackwell has been credited with selling more than 200 million records over the years, and he might have sold a lot more than that had the Beatles not turned the music industry on its ear in the early 1960s by writing their own songs instead of hiring songwriters to do it for them. Their success emboldened a lot of other recording artists to start recording their own songs, too.
Even Blackwell tried to get in on the act in the late 1970s when he recorded an album titled These Are My Songs and went out on tour. But the man who created so many hits for other artists never did have a hit record of his own. Not that that really bothered him—Blackwell had made an indelible mark on popular music, made a lot of money in the process, and had a lot of fun as well. Or as he once put it in an interview, "I wrote my songs, I got my money, and I boogied!"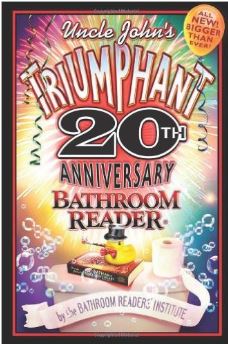 This article is reprinted with permission from Uncle John's Triumphant 20th Anniversary Bathroom Reader. This behemoth of a book is jam-packed with 600 pages of all-new articles (as usual, divided by length for your sitting convenience). In what other single book could you find such a lively mix of surprising trivia, strange lawsuits, dumb crooks, origins of everyday things, forgotten history, quirky quotations, and wacky wordplay? Uncle John rules the world of information and humor, so get ready to be thoroughly entertained.
Since 1987, the Bathroom Readers' Institute has led the movement to stand up for those who sit down and read in the bathroom (and everywhere else for that matter). With more than 15 million books in print, the Uncle John's Bathroom Reader series is the longest-running, most popular series of its kind in the world.
If you like Today I Found Out, I guarantee you'll love the Bathroom Reader Institute's books, so check them out!