Five War Heroes Who Also Happened to Be Dogs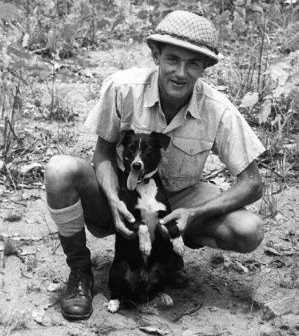 Heroes come in many forms; some are even furry and four-legged. Due in part to their superior ability to sniff and hear trouble, dogs have long been a fantastic ally and a great protector of humans. After all, it was Lassie who, through a series of barks, told the grown-ups that Timmy was in trouble again (Note: Timmy never actually fell down a well. Mineshaft, sure, but no well.) Dogs can also be quite brave and have been known to run into dangerous situations without a moment of hesitation. Throughout history, several dogs have gained a reputation as being courageous in wartime.
Here are the stories of five such dogs that became war heroes and helped saved human lives:
Gunner – Australia's Alarm
Japanese bombs started raining down on the capital city of Australia's Northern Territory, Darwin, around 10 am on February 19, 1942, just over two months after the Japanese bombing of America's Pearl Harbor. After the initial attack, which sunk eight ships and badly damaged 37 others, soldiers went looking for the injured among the rubble.
Under a destroyed mess hall, they found the smallest survivor of them all, a six-month-old male stray kelpie (an Australian sheep dog). He had a broken leg and was whimpering. Eventually, the injured pup ended up in the hands of Leading Aircraftman Percy Westcott. He made it his duty to get this dog help. Westcott took the dog to the doctor, who said he couldn't treat any "man" who didn't have a name or serial number. So, Westcott named the kelpie "Gunner" and gave him the number 0000. Satisfied, the doctor put a cast on Gunner's leg and set them on their way.
From that point forward, Gunner and Westcott were inseparable. When Gunner's leg began healing (despite his habit of chewing the cast), he would join Westcott on his daily tasks. One day not long after the attack, as the men worked on repairing several planes in the airfield, Gunner started barking and jumping up and down. The men paid no attention to the dog, but within a few minutes Japanese raiders swooped in and commenced shelling Darwin again.
Luckily, the men and Gunner managed to dive to safety, but it was another surprise attack. Well, to everyone but Gunner. In general, Australian Kelpie hearing, even more so than many other breeds of dogs, is fantastic. Two days later, Gunner again started making a commotion. This time, the men knew to find cover and prepare for the upcoming attack.
From February 1942 to November 1943, over sixty air raids were commenced on Darwin. Gunner warned the soldiers of nearly every one, saving countless lives. Another amazing aspect of this was that Gunner never barked when Australian planes took off or were returning. He was able to differentiate between Australian aircrafts and Japanese aircrafts. It is not known what happened to Gunner after the war.
Rip the Rescue Dog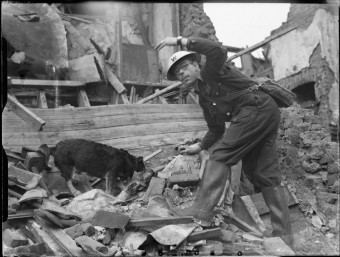 The Blitz commenced on London on September 7, 1940. For the next 57 days, German bombers enveloped the city in destruction. Right after a particular heavy shelling during one of the first days of the Blitz, an Air Raid Warden named E. King found a hungry stray walking the streets. He threw it some meat and the dog refused to go away. The dog followed King back to his post and, eventually, became something of a mascot. But Rip, as they called him, soon showed his worth beyond a simple mascot.
Rip came out with King after a bombing one night and his nose started twitching. Rip followed the scent to a collapsed building and started digging. What Rip found was a man, still alive, buried beneath. It was probably the best image this man had ever seen; a barking, sniffing mutt.
Despite never being formally trained, Rip became England's first urban search and rescue dog. It was reported that he found and rescued over hundred people with his sensitive, life-saving nose. Due to Rip, today London's police force and military trains hundreds of dogs per year to be part of their urban search and rescue teams.
In 1945, Rip was awarded the Dickin Medal for bravery, an honor bestowed animals for their service during war. On the medal, it reads "For Gallantry. We Also Serve." Rip passed away in 1946 and is buried in Ilford Animal Cemetery in London.
Antis – The "German" Who Saved Frenchmen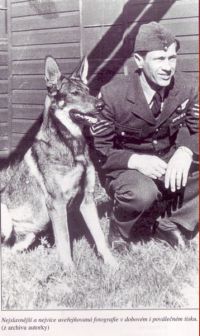 As French Air Force gunner Robert Bozdech came barreling toward Earth in his now-disabled plane, death was on his mind, not making a new best friend. But that is exactly what happened when he crashed landed in Northern France, ominously known as "No Man's Land." He, amazingly, emerged from the wreckage of his plane barely hurt, but heard sounds from a nearby farmhouse. Thinking it was the enemy, he took out his gun, ready to shoot. What emerged was a gray ball of fur, a German Shepard puppy. He took the pup in his leather jacket and hitched a ride back two hundred miles to St Dizier Air Base. Bozdech's peers were stunned he was still alive, much less having a new best bud.
Antis, named so because Bozdech loved to fly Russian ANT dive-bombers, became not just a loyal friend, but a seasoned war veteran. Much like Gunner, he barked in warning about oncoming enemy fire. Just like Rip, he learned how to sniff and dig for survivors. Robert and his comrades also considered Antis a good luck charm and, most importantly, braver than many a human soldier. He would hide away in Bozdech's gunner plane to ensure that he would be there to protect his pal. Antis would also run into enemy fire to notify others where the injured men were. He was even once injured himself, yet that didn't stop him from performing his duties. Several days after being injured, he somehow snuck onto Bozdech's plane as a stowaway.
After the war, Antis was also awarded the Dickin Medal and lived with Bozdech the rest of his life, passing away at the age of 14 in 1953.
Salty and Roselle Safely Guides on 9/11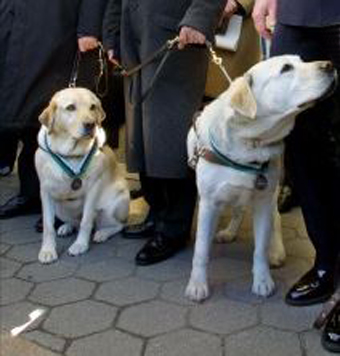 While 9/11 wasn't necessarily during war, it was certainly an act of war and war-like situation. Salty and Roselle were both part of the Guiding Eyes for the Blind program in New York, but came upon their fates differently. Roselle was only one and half when she was introduced to Michael Hingson, the man she was to guide. Hingson had been blind since birth, but earned a masters in physics from the University of California. On September 11, 2001, he was working as a computer sales manager on the 78th floor of the World Trade Center Tower 1.
Roselle was asleep when the plane struck the 99th floor. Calmly and cooly, she guided Hingson, and several others in the office, down over 1400 hundred darkened stairs and out of the door. The whole escape took about an hour, but within moments of making it to the street, Tower 2 collapsed, sending debris everywhere. Roselle was struck by pieces, but she was unfazed and continued moving, just like she was trained to do.
As Hingson said,
She saved my life. While everyone ran in panic, Roselle remained totally focused on her job. While debris fell around us, and even hit us, Roselle stayed calm.
Salty had always loved fast-paced, city-living. When he was introduced to Omar Rivera, it was a perfect match. Rivera had gone blind due to glaucoma, but continued to work for New York's Port Authority as a senior systems designer. He was working on the 71st floor of the World Trade Center Tower 1 on 9/11. Salty was lying next to Rivera when the plane hit. The whole building swayed, but Salty calmly got up, offered Rivera his guidance, and lead them down the stairs. At one point a co-worker, thinking the dog needed help, tried to take Salty's leash, but he refused to leave his master's side. They made it out the door and were two or three blocks away when the second tower collapsed.
Both Salty and Roselle were given the Dickin medal for their heroics despite all the chaos around them. Salty passed away in 2008 and Roselle in 2011. They are remembered as American heroes.
If you liked this article, you might also enjoy our new popular podcast, The BrainFood Show (iTunes, Spotify, Google Play Music, Feed), as well as:
Bonus Facts:
Dogs weren't the only animal to be bestowed the honor of a Dickin medal. In fact, pigeons were awarded the medal thirty two times, more than every other animal combined. It was given eighteen times to a dog, three times to a horse, and once to a cat. The cat's name was Simon and he was given the medal in 1949 for his efforts in raising morale, surviving a cannon shell injury, and killing off a rat infestation during the Yangtze Incident. The Yangtze incident involved the British Royal Navy ship Amethyst being trapped on the Yangtze River for three months during the Chinese Civil War.
It isn't known whether the dog was purposefully domesticated by humans or if they were self-domesticated, with certain of the gray wolves becoming friendly with humans from continually scavenging food scraps around human camps.  Also, similar to the domestic cat that all likely descended from just a handful of cats, it is thought that all dogs descend from just a handful of gray wolves in a small number of domestication events.  In the dogs' case, this probably took place in East Asia, with the dogs quickly being bred and spreading throughout the world, even to North America around 10,000 years ago.
Expand for References