What Is the Origin of Freshman, Sophomore, Junior and Senior?
Ian K. asks: Why are students called freshmen, sophomores, juniors, and seniors?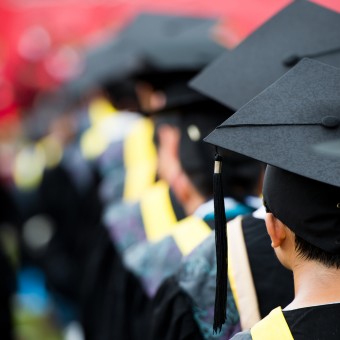 Rather than referring to a student's year of study, in U.S. high schools and colleges, first year students are freshmen, second years are sophomores, third year students are juniors, and the most experienced are seniors.
Yet although this practice seems uniquely American, its origins date back several centuries to Cambridge where in 1688:
The several degrees of persons in the University Colledges . . . Fresh Men, Sophy Moores, Junior Soph, or Sophester. And lastly Senior Soph.
That said, the origins of these individual terms go back even farther.
Freshman
A child of Modern English, "freshman" dates back to the mid-16th century where it has invariably meant either "newcomer" or "novice." Its use to denote a "university student in first year," also dates to the 1590s.
Sophomore
Likely derived from folk use of two Greek terms, sophos, meaning "wise," and moros, meaning "foolish, dull," sophomore originally probably meant a wise moron! Dating back to the 1650s, by the 1680s, the term was used to designate university students in their second year of study, as well as an "arguer" – this latter use referring to the "dialectic exercises that formed a large part of education in the middle years."
Junior
Dating back to the end of the 13th century, junior has always meant someone younger, or more particularly, "the younger of two." Defined in relations to their more learned upperclassmen, early on, juniors were called "Junior Soph," and seniors were denoted with "Sophester".
Senior
Since the mid-14th century, senior has been used in English to denote either an older person or one of authority. Derived from the Latin adjective of the same spelling (meaning older), by the early 17th century, it was being used to describe an "advanced student," and since 1741, it has meant a "fourth year student."
If you liked this article and the Bonus Facts below, you might also enjoy:
Bonus Secondary and Higher Ed Facts
Expand for Further References