This Day in History: November 1st
Today in History: November 1, 1512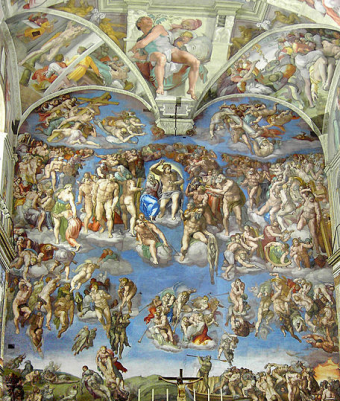 On All Saint's Day, November 1st, Pope Julius celebrated Mass in the Sistine Chapel for the first time in four years. Those in attendance were dumbfounded by the magnificent frescoes telling nine stories from the book of Genesis. The most memorable of these is a painting called "The Creation of Adam," where God and Adam are stretching their arms toward each other, index fingers extended.
All present must have had incredible self-control to pay attention to the Mass considering the dazzling masterpiece above their heads, and the graceful statues perched on or draped over the incomparable architectural details surrounding them.
The artist responsible for this stunning achievement, Michelangelo Buonarroti, grew up in Florence, Italy, which was a hot spot of the early Renaissance movement. Displaying uncommon talent by age 13, Lorenzo de' Medici, the ruler of Florence and renowned patron of the arts, became his sponsor. After creating the sculptural masterpieces the "Pieta" (1498) and "David" (1504), he was called to Rome to work his magic on the ceiling of the Sistine Chapel.
Michelangelo labored on the ceiling of the Sistine Chapel from May 1508 to October 1512, lying flat on his back cramped in a small space between the scaffold and the ceiling. The physical strain took its toll on him, and arguing constantly with Pope Julius didn't make his working conditions any more enjoyable. Bottom line was Julius wanted the job done fast, and Michelangelo wanted the job done right.
The story has come down through the ages that, aside from allowing assistants to grind his colors, the ceiling of the Sistine Chapel was completed solely by the great master. In reality, he had help from several artists he knew well from Florence, including his childhood friend Francesco Granacci, and others he had trained with.
The myth that Michelangelo had performed this Herculean task in complete solitude was the invention of his biographer Visari, who conveniently waited until all his assistants were dead to remember this tale of heroism. He tells how:
"…closing himself inside the chapel, he [Michelangelo] would not open it to them [the assistants] or even see them at his home. And when they thought this joke had been carried far enough, they made up their minds and returned to Florence in disgrace. Then Michelangelo made arrangements to do the whole work by himself, and he readily brought it to a very fine conclusion with diligent effort and study; nor would he ever see anyone, to avoid having to reveal his work, and, as a result, everyone's desire to see it grew greater every day." (Vasari, Life of Michelangelo, trans. Bondanella, p. 440)
Twenty years later, Pope Paul III called upon Michelangelo and his talents again to paint another Fresco behind the Sistine Chapel's altar. This massive painting, entitled "The Last Judgment," is another masterpiece he's left for humanity to enjoy through the ages.
Michelangelo continued to create, draw, sculpt and paint right up until his death in 1564.
If you liked this article, you might also enjoy our new popular podcast, The BrainFood Show (iTunes, Spotify, Google Play Music, Feed), as well as:
Expand for References
Forcellino, Michelangelo: A Tormented Life, translated by Allan Cameron, Polity 2009