Did Groucho Marx Really Say It- The Cigar Quip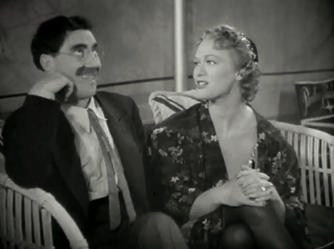 It is, without question, one of the most oft-quoted anecdotes in the history of comedy. It goes, pretty much, like this:
A woman with 10 (or 12 or 14 or 16 or whatever) children makes a guest appearance as a contestant on Groucho Marx's quiz show You Bet Your Life (which started out on the radio and later found its way onto TV, running from 1947-1961)

Woman: "I have 14 children, Groucho".

Groucho: "You have 14 children? Why do you have so many kids?"

Woman: "Because I love my husband".

Groucho: "I love my cigar too, but I take it out of my mouth every once in a while."
The most generally accepted version of the "Cigar Story" was that it took place on radio in 1947 during the show's first year.  A "Mrs. Story" was the supposed contestant's name. But other sources claim it occurred on TV and the lady's name in that case was supposedly "Mrs. House".
However it supposedly happened, literally thousands of people have claimed to have either been there in the studio or heard it on radio or TV.  This is, of course, impossible.  If it ever did occur, it would have inevitably been edited out before any actual airing.  The ribald gag was much too crude for radio or television in those times. So, at most, 200 people (the capacity of Groucho's studio audience) could have actually heard it.
What did Groucho have to say on the matter?  In 1972, in an interview with Roger Ebert for Esquire magazine, Groucho stated: "I got $25.00 from Reader's Digest last week for something I never said. I get credit all the time for things I never said. You know that line in You Bet Your Life the guy says he has 17 kids and I say 'I smoke a cigar, but I take it out every once in a while.' I never said it." (Obviously Groucho himself here misrepresents the common story today and the sex of the contestant is a man instead of a woman.)
Despite Groucho himself denying he ever said it, in the 1976 book The Secret Word is Groucho by Groucho, "Groucho" says: "The story, however, is not apocryphal. It did happen." Confused? Unlike the 1972 Esquire interview, this book was largely ghost-written by biographer Hector Arce and he may easily have put these words in Groucho's mouth.  By 1976, the year of the book's publication, Groucho was pretty much a shell of his old self, having survived a few strokes.  The poor man could barely string together a coherent sentence in his final year (Groucho passed on the next year, 1977), let alone properly edit Arce's work for content.
The truth is, the "cigar" remark, taken at its burlesque show level, wasn't really Groucho's "style". Groucho would definitely make an occasional off-color or lewd remark in private. And as we all know, Groucho's sense of humor and mind were amazingly quick, fertile- and hilarious.  But on the air, Groucho was the consummate pro and it wasn't like him to make a remark like that in front of an actual studio audience, who may well not have appreciated the crudeness; and he'd know it would never make it on the air anyways.
In the end, there is no record or transcript of the legendary exchange ever actually taking place. And as Groucho, before his body and mind started failing him, stated he never actually said it, we can pretty safely say it never happened.
Interestingly, on January 11, 1950, Groucho did interview a woman who was one of 17 children and the following dialogue did take place:
Groucho: "How does your father feel about this rather startling turn of events? Is he happy or just dazed?"

Daughter: "Oh, my daddy just loves children".

Groucho: "Well, I like pancakes, but I haven't got closestsful of them."
This rather innocent exchange may possibly have been the actual source of the now infamous "Cigar Story".
If you liked this article, you might also enjoy our new popular podcast, The BrainFood Show (iTunes, Spotify, Google Play Music, Feed), as well as:
Bonus Fact:
Most of Groucho's best "ad-libs" were written in advance by his group of comedy writers.  The writers themselves would meet and interview the contestants for the show, then they would would write the clever "Groucho" quips on cue cards and Groucho would read them off before the studio audience, making them sound fresh and original. It is true, though, that Groucho did not meet the guest contestants before the show's taping.