25 Amazing Facts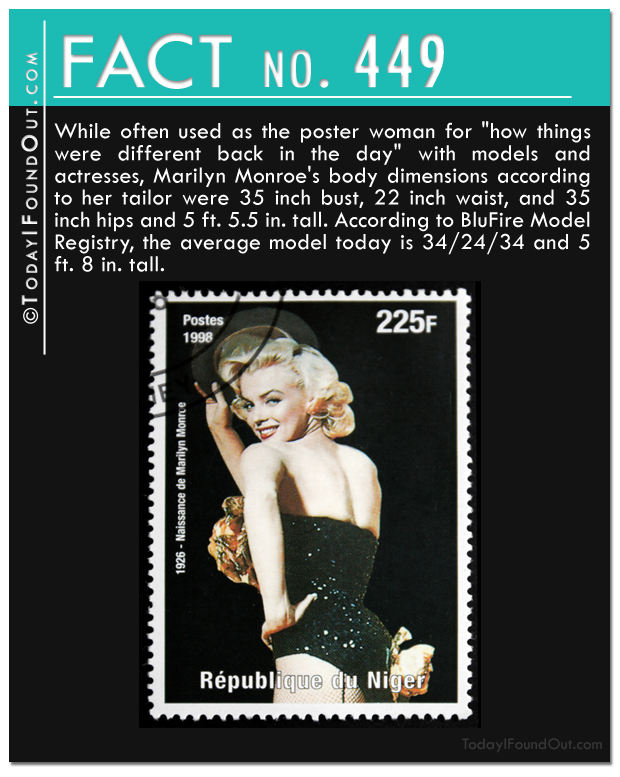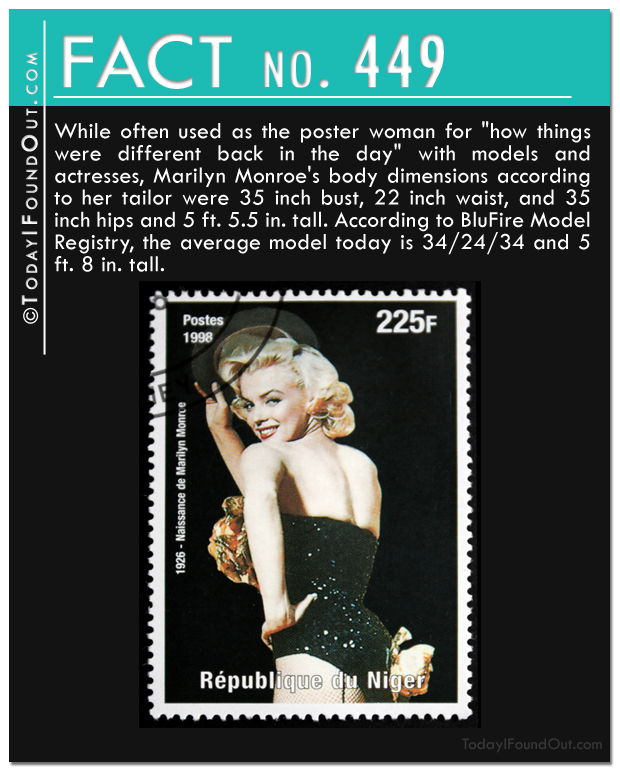 If you liked these, check out more free quick-facts here.  You might also be interested in QI's 1,227 QI Facts to Blow Your Socks Off.
Text Version:
Fact 449: While often used as the poster woman for "how things were different back in the day" with models and actresses, Marilyn Monroe's body dimensions according to her tailor were 35 inch bust, 22 inch waist, and 25 inch hips and 5 ft. 5.5 in. tall.  According to BluFire Model Registry, the average model today is 34/24/34 and 5 ft. 8 in. tall.
Fact 450: A single human sperm cell contains around 37.5 MB of information.
Fact 451: During WWII, all the snakes and dangerous insects were killed in the London Zoo by the Zoo keepers in case they managed to escape after a bombing.
Fact 452: The only living animal who has the same scientific name as their common name is the boa constrictor.
Fact 453: The 1900 Olympics included a long jump competition… for horses.
Fact 454: The human eye can detect somewhere between 100K-10 million shades of color.  For reference, HDMI 1.3 supports 30 (1 billion), 36 (68 billion), and 48 bits (281 trillion) of color.
Fact 455: Wombat poop is cubic.
Fact 456: In the last century, the east coast of the United States has moved about 8 ft. further away from Europe.
Fact 457: The largest island on a lake which is itself on an island in a lake is Treasure Island in Lake Mindemoya, which is on Manitoulin Island in Lake Huron.
Fact 458: Oranges are a berry, as are bananas.  Strawberries however are not technically berries, they are aggregate fruits.
Fact 459: The highest crime rate per capita of any city in the world is at Vatican City where an average of 600 crimes are committed per year, despite only having 800 residents.
Fact 460: More U.S. soldiers committed suicide in Afghanistan than were killed in action there in 2012.
Fact 461: The manager of the first ever McDonalds was named Ed MacLuckie.
Fact 462: In Nevada, a disturbance with as few as 2 people can legally be considered a riot.  In the U.S. in general, it takes 3 people.  In England, 12.
Fact 463: About 5% of all Association Football (Soccer) injuries occur during celebrations after scoring a goal.
Fact 464: The fear of dinner party conversations or dinner parties in general is known as Deipnophobia.
Fact 465: The fear of having no cell phone signal or otherwise being unable to make or receive cell phone calls is called Nomophobia.
Fact 466: How do we know vampires don't exist?  If each vampire ate just 1 meal a day, starting with just 1 vampire and each victim then turning into a vampire, it would take about 1 month for the entire human population to become vampires.
Fact 467: The Sun is 20 "years" old- it's completed 20 orbits around our galaxy's center since it first sparked to life.
Fact 468: The favorite childhood book of George W. Bush, according to him, was The Very Hungry Caterpillar, by Eric Carle… written when George W. Bush was 23 years old.
Fact 469: Cows have dstinct accents in their mooing, depending on where they are from.
Fact 470: Ever wonder how humanity collectively forgets so quickly?  It's estimated that around 95% of all text currently in existence will never be looked at again by human eyes.
Fact 471: Approximately 46% of babies born in China are birthed via a Caesarean section.
Fact 472: Over 200 million IKEA catalogues were printed in 2012, this is about 8 times the number of Bibles printed in the same year.
Fact 473: Wikipedia to date has taken about 100 million man-hours to create.  This may sound like a lot, but in fact in a typical month, people in the U.S. alone spend about 1.5 billion man hours watching advertisements on TV.
Fact 474: The world's best-selling sci-fi novel to date, Dune, was rejected 20 times before being accepted… by a car manual publisher (Chiltons).
Fact 475:  One of the common early uses of Heroin, which was marketed as non-addictive, was to help treat people who were addicted to morphine, even though Heroin ultimately proved to be more addictive.  When morphine was first isolated from opium in 1805, one of its early uses was a "non-addictive" drug to treat people who were addicted to the less addictive opium.