The Difference Between Kosher Salt and Table Salt
Mushyrulez asks: What's the difference between Kosher salt and table salt?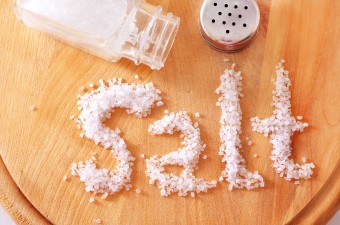 In truth, not much.  The primary ingredient to both, not surprisingly, is sodium chloride.  In fact, the U.S. government requires that any food-grade salt be a minimum of 97.5% pure, so any type of salt you consume in the U.S. (and most developed countries) is going to be almost exactly the same as any other type of salt in terms of what it is made up of.
However,  "Regular" or "table" salt does usually contain an anti-clumping agent, like calcium silicate or sodium ferrocyanide, and iodine (see Why Iodine is Added to Salt).  Kosher salt usually doesn't contain either of these things, though occasionally some manufacturers do put an anti-clumping agent in. But this is rare and even when they do, it's usually much less than is in table salt.
The most striking difference between Kosher salt and regular salt is just the grain size.  If you look at table salt under a microscope, you'll see that table salt has been milled such that many of the salt crystals look like little cubes.  Kosher salt, on the other hand, is larger grained and less processed, allowed to keep its more random, crystalline structure.
This size difference is directly responsible for how Kosher salt got its name.  Contrary to what is often thought, Kosher salt is not called  "Kosher" because the salt itself is specifically certified as kosher. Rather, Kosher salt got its name because this larger grained version of salt was used in the process of koshering meat, specifically to remove surface blood from meat (hence "Koshering salt" was shortened in some regions, like most of the United States, to "Kosher salt"). Smaller grained salts, like table salt, would have a tendency to absorb more into the meat itself, which isn't what they're going for here.  By using larger grained salt, it absorbs the blood and then can be more thoroughly washed off after, removing the surface blood without making the meat overly salty.
As such, buying any old Kosher salt doesn't actually guarantee that it is certified kosher (although most mass-produced, food grade salts, of various varieties, are certified kosher).  If you're curious if the salt you have is certified kosher, just look on the container for a K or a U that is circled.  If it's there, it's kosher, regardless of grain size or added ingredients.
If you liked this article and the Bonus Facts below, you might also like:
Bonus Facts:
The word "kosher" comes from the Hebrew "kasher", meaning "fit, lawful, proper).  It first popped up in English in the mid-19th century meaning "ritually fit or pure".  By the end of the 19th century, it had also taken on the meaning of "legitimate".
When cooking, pay close attention to whether Kosher salt or table salt is called for in your recipe; 1 tablespoon of Kosher salt does not equal 1 tablespoon of table salt in terms of the weight of the salt.  Specifically, if your recipe calls for 1 tablespoon of table salt, you'll want to put in about 1.25 to 1.5 tablespoons of Kosher salt to get the right amount of saltiness. (The variation is based on the brand of Kosher salt- different brands have different flake sizes.)  To be perfectly accurate, just go by weight, not by measuring spoons.
French sea salt is distinct from most other sea salts in that it is made from sea water that is evaporated out of a basin with the resulting salt not being purified in any way.  So it contains many of the minerals naturally found in sea water.  This tends to be sold for a very high price (as much as $5 for a small packet), even though it is mostly just plain salt and is actually cheaper to make, as it's unrefined.  Interestingly, many French sea salt factories have relatively recently had to shut down due to rampant water pollution.
Hawaiian sea salt is very similar to French sea salt, except tends to have a pink-ish hue to it from red Hawaiian volcanic clay, which is rich in iron oxide.
Sea salt is typically bad for canning or pickling due to containing trace minerals that may discolor the food.  The food will likely taste more or less the same in these cases, but will look funny.
Popcorn salt isn't really any different than table salt except that it is ground much finer than table salt, which allows it to better adhere to popcorn kernels, potato chips, French fries, etc.
Rock salt is cheap, non-food grade salt.  If you're wondering how it cannot be food grade, but be used in the making of ice-cream, it doesn't actually go into the ice cream, as some people think, but rather it goes in the ice-filled area around the tub or bucket of ice cream.  This lowers the freezing point of that ice and causes it to melt, aiding in the process of pulling the heat out of the ice cream in the container.  So basically, the rock salt is used to control the time to freezing of the ice cream in the container.
Kosher salt is generally preferred by chefs for a variety of reasons including: its coarser grains, which make it easier to handle with your fingers, measuring by touch; the larger grains also lend to making salt crusts on meat;  it's also free of iodine, making it good for pickling things; and iodine can affect certain molecules in some foods and itself has a somewhat bitter taste, so having salt free of iodine is typically preferred.
[Image via
Shutterstock
]