Lighters Were Invented Before The Match
Note: This is a guest article contributed by frequent TIFO visitor and owner of
DumpADay.com
, Jon.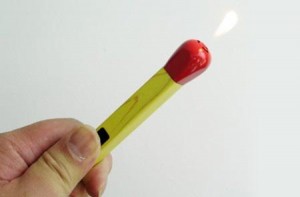 Today I found out that lighters were invented before the match.
This one had me scratching my head for a bit.  There are several sites out there that say the match came first.  However, by definition of the "match",  they are incorrect.  The match they are referring to, the one they say came before the lighter, was nothing more than sticks (not tooth-pick size, but actual sticks, they found laying around) soaked with a flammable chemical for easy lighting later with tinder.  The sticks then burst into flame when you provided sparks or fire by some other means.  So when someone tells me that matches were invented in Northern China in 577, I'll say, "define Match."
So what about the lighter?  They were invented in the 16th century out of nothing more than a converted flintlock pistol.  Now you can argue that a pistol is no lighter.  This is true.  But if you look up the definition of "Lighter" in the dictionary, it states; "A mechanical device used in lighting fires, cigarettes, cigars, or pipes."  So by definition, the converted pistol was indeed the first lighter.
I know what you are thinking,  "What does the definition of "Match" say…   It states, "a slender piece of wood, cardboard, or other flammable material tipped with a chemical substance that produces fire when rubbed on a rough or chemically prepared surface."  Sure they had sticks coated in a flammable substance, but they didn't rub it to light it; they had to provide the flame or sparks to light it.  So it was simply an easier way of making fire than just lighting a stick not chemically coated.
So now that semantic controversy is out of the way, here are some match and lighter facts.
It wasn't until 1826 that a man by the name of John Walker from England invented the first actual match.  (you know the kind you rub, it needed friction to light)  However, Walker's matches weren't very reliable so the match (at the time) never really saw success.  It wasn't until 5 years later a man named Charles Sauria of France managed to develop a match that used white phosphorus.  These little beauties were a little too successful.  They often would ignite even when you didn't want them to.  And, as it turned out, white phosphorus was highly toxic.  The workers who worked in the match plant often suffered from a horrible degeneration of the jawbone, known as "phossy jaw."  Even though the health hazards were well known, white phosphorus continued to be used on all matches until the 1900's when the U.S. government along with Europe forced manufacturers to switch to a nontoxic chemical.
So what about the lighter you ask; well as you know the first ones were nothing more than the converted pistols in the 16th century.  But it wasn't until 1823 (note this is before the invention of the ACTUAL match in 1826) a German chemist named Johann Wolfgang Dobereiner is credited with inventing the first lighter.  It was often called the "Dobereiner's Lamp."  It worked by a reaction of hydrogen to platinum sponge, which gave off a large amount of heat.  However, it didn't see much success either.   It wasn't until Carl Auer Von Welsback (that is one hell of a name, just saying) patented the ferrocerium (it's often misidentified as flint) in 1903.  It was this that made lighters as we know them today, possible.  It is when the flint is scratched that it produced a large spark that is responsible for lighting the fuel in lighters.
Bonus Facts:
The matchbook matches were patented in the United States by Joshua Pussey in 1892.  (Yes, he was a Pussey)
In 1888 Ebenezer Beecher patented the first match making machine.
Today's match making machines can produce over 10 million matches per 8 hour shift, with minimal people to monitor the operation.
George G. Blaisdell invented the zippo lighter in 1932, in Bradford, Pennsylvania
In the 1950s there was a switch in fuel choice from naphtha Naphtha to butane.
In 1998 BIC introduced the child-safety feature, a metal shield over the flint wheel, seen on all modern BICs.
Expand for References