Could You Really Legally Kill Someone with a "Wanted: Dead or Alive" Bounty on Their Head?
Labyrinth900 asks: Were "Wanted Dead or Alive" bounties a real thing? In other words, if you found someone that is wanted dead, could you legally shoot and kill them and collect a bounty, and not be charged for murder?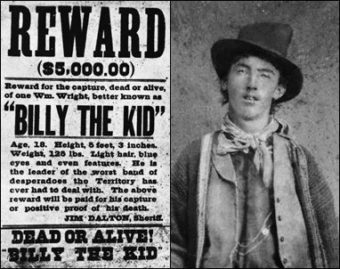 A classic Hollywood trope is the idea of a poster with the photo of a given criminal along with very large print text that would say something like "Wanted- Dead or Alive". But did these actually ever exist and could you actually kill someone legally when such a poster was issued by the authorities?
To answer the first question- yes, there are many known instances of such "Dead or Alive" posters being put up by the state and other entities, but that doesn't actually tell the whole story. Just because a poster stated something like "Dead or Alive" it did not grant any individual the right to kill the person without legal consequences. For example, consider the infamous murder of Jesse James at the hands of his outlaw buddies Charley and Robert Ford.
Missouri governor Thomas Crittenden negotiated with various rail companies to offer a $5,000 ($131,000 today) reward each for the capture of Jesse James or his brother Frank. The subsequent posters noted "Wanted Dead or Alive Jesse or Frank James". Ultimately the Ford brothers arranged with the governor in secret to bring their buddy Jesse in.
Deal struck, on the morning of April 3, 1882, the brothers had breakfast with James. After eating, the trio walked into the living room. When James turned his back on the brothers, reportedly to clean a dusty photo, Robert Ford shot him in the back of the head.
Unfortunately for Charley and Robert, when they went to collect the reward, they instead found themselves promptly arrested for murder and soon after were sentenced to hang. You see, James was unarmed at the time of his death, and just as importantly was not in any way resisting arrest or attempting to flee. He seemingly didn't even know the Ford brothers were there to arrest him that day.
To get away with killing such a person you were attempting to collect a bounty on the person needed to be resisting in some way, particularly in a way that threatened your own life. Thus, you could only kill them if it was self defense, which wouldn't have been any different than if someone attacked you outside of any bounty scenario, with one caveat. For quite some time in U.S. history it was legal to use deadly force against a fleeing felon, even if your own life wasn't immediately threatened. The logic behind this was seemingly that chasing down a fleeing person could be dangerous in unforeseen ways. It also incentivized criminals to not try to flee in the first place upon discovery.
Granted, if no one was around to witness, whose to say the dangerous criminal you killed didn't actively threaten your life in an imminent way to cause you to defend yourself?  And given that bringing such a criminal in across long distances used to be an extremely dangerous affair in many cases, anecdotally it seems like it wasn't uncommon to simply rid the world of the alleged criminal first and then lie about what happened after. A body is so much safer to transport and people were quick to believe a dangerous criminal would fight tooth and nail to escape because, after all, in many cases they probably did if they knew being brought in was going to likely result in a hanging. They really had nothing to lose.
On that note, Teddy Roosevelt was once thanked by boat thief Michael Finnigan for not killing him in this sort of scenario, despite the extreme risk to Roosevelt at the time. In a nutshell a couple guys stole a boat from Roosevelt in the dead of winter. Rather than let it go, Roosevelt dropped everything and built a new boat, tracked them down and captured the thieves. The whole affair ended up being a few hundred mile trek, which had to be partially on foot because ice made the river unnavigable at a certain point.  Near the end, Roosevelt had to stay awake 40 hours straight to guard the prisoners as they walked and rested. You see, he was escorting them alone at that point and it was so bitterly cold that he worried the criminals would get frost bite if he bound them in any way, so he didn't.
In the end, Roosevelt didn't even press charges against one of the men, noting he didn't "have enough sense to do anything good or bad." As for the aforementioned Finnigan, while he did find himself behind bars, he thanked Roosevelt for not killing him as most lawmen would have done in the same set of circumstances. You can learn much more about this fascinating saga on one of our favorite series of our BrainFood Show podcast titled The Bull Moose. Though perhaps a better title for that series would have been: In Which Teddy Roosevelt Makes Men Everywhere Feel a Little Less Manly.
In any event, going back to the Ford brothers, they did end up getting off as the governor went ahead and pardoned them, something that was met with mixed reaction by the general public. The speed at which the trial and pardon happened had some accusing the governor of actually knowing before hand that James would be killed and that the pardon had likewise all been pre-planned. Although this seems to strain credibility because if Robert Ford had known it would be illegal to kill James in the way he did, he could have killed him in the exact same way and just made up a story that James had tried to attack him or flee. No one would have been the wiser in that case and there would have been no need to trust the governor to grant a pardon.
Whatever the case, going back to the Wanted Dead or Alive posters, there are a few more caveats to consider as well. First, while depictions in movies and games often show clear photographs, in reality many historical examples were simple sketches, and often even got the descriptions of the person wrong.
Further, in the vast majority of cases, it was lawmen themselves who would take it upon themselves to go hunt down the criminal and collect the reward, not someone in the general public. Naturally, while finding criminals was sort of their job anyway, criminals that had bounties on their heads tended to get much higher priority and a lot more effort. A caveat to that was that it was occasionally the case that a member of the general public would be deputized specifically to go capture someone.
This brings us around to who pays. In most cases, as you might have guessed from our former mentioned instance of Missouri Governor Thomas Crittenden getting railroad companies to put up the reward money, this usually wasn't actually the state itself, but rather private companies or individuals who had particular interest in seeing someone brought to justice and wanted to incentivize law enforcement to actually do something about it.
It was also these private entities that were more likely to have something like "Dead or Alive" put in the poster if they were involved. The legality of killing the person wasn't really relevant here- only what the stipulations were for getting the reward. And if the company or person just wanted the alleged criminal out of the way, regardless of how it happened, they might state that they were happy to pay even if the person was killed. This would incentivize more people to try to capture the person as the risk would be less than if it was required that the person be brought in alive no matter what.
If the wanted poster and reward were coming from the state alone, it was far more likely that the poster would say something more benign, and more likely that a bounty would only be paid if the person was brought in alive and in some cases even requiring the person be convicted. Again, all of this had more to do with the stipulations surrounding how one could get paid, rather than the legality of anything suggested in the poster.
It should also be noted that if a private citizen aided a lawmen in tracking down or bringing in alleged criminals, from accounts we reviewed it would seem not uncommon at all for the lawmen to go ahead and make sure they themselves got the lion's share of the reward, in a few instances even when the lawmen did little but recover the body after the private citizen had done their part. For example, in the aforementioned case of the Ford brothers who killed Jesse James, for all their trouble, they ended up only getting a small percentage of the bounty, with the rest going to Marshal Henry H. Craig and Sheriff James Timberlake.
But to sum up- yes Wanted Dead or Alive posters were indeed a thing, though this did not technically allow people to legally kill someone if they found them, as is often portrayed in movies. Doing so flagrantly might just see the killer wind up on their own Wanted poster.
If you liked this article, you might also enjoy our new popular podcast, The BrainFood Show (iTunes, Spotify, Google Play Music, Feed), as well as:
Bonus Facts:
For quite a bit of England's history, bail was not in the form of money, but rather in the form of a person who would stand trial and potentially be sentenced in your place if you skipped town. As you might imagine from this, bounties on those who'd skipped town were most definitely a thing going back at least as far as the 13th century in England as those who had pledged themselves as bail, but had the person skip town, were highly incentivized to get the person back.  Using money, rather than a person, as bail finally changed in the 17th century thanks to the Habeas Corpus Act. While you'll often read that these 13th century instances were the first known instances of bounty hunters, this isn't correct at all. It seems more likely that this has been going on since as long as civilized humans have been humaning. As for one example drastically predating 13th century England, at some unknown point in the history of Pompeii (definitely preceding 79AD for obvious reasons), someone wrote on a wall: "A copper pot went missing from my shop. Anyone who returns it to me will be given 65 bronze coins. 20 more will be given for information leading to the capture of the thief." Moving over to China in the 3rd century BC, Emperor Qin Shi Huang is known to have used bounties for various purposes.
If you're wondering if Wanted Dead or Alive posters are still a thing, not really. While Wanted posters are still around, and the FBI, for example, currently uses over 5,000 digital billboards at various times for this purpose, the Dead or Alive variety went the way of the Dodo around the early 20th century. That said, we did find one instance occurring in 2018. In this case, in California an unnamed homeowner who was robbed put up Wanted Dead or Alive posters with the image of the person who had robbed him. As you might imagine, local law enforcement did not take kindly to this, though the person in question refused to stop posting the Dead or Alive bounty, citing freedom of speech. The police did not do anything about it, and they eventually captured the theif.  However, they did note that had something happened to the thief as a result of the posters, there very likely would have been legal ramifications for the homeowner.
Expand for References