This Day in History: October 8th
Today in History: October 8, 1918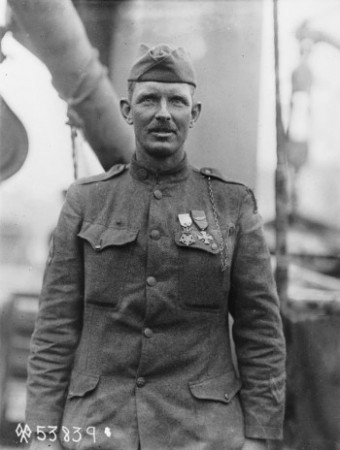 Corporal Alvin C. York, while at the head of a small detachment near the Meuse River in the Argonne Forest in France, killed at least 20 German soldiers and captured an additional 132 men, which later earned him the Congressional Medal of Honor.
York was born in a log cabin near the Tennessee-Kentucky border in 1887. He was the third of 11 children that scraped out a living from hunting and subsistence farming. York became a fundamentalist Christian in 1915, and two years later when the U.S. entered World War I he was drafted into the Army.
Due to his religious beliefs, York attempted to get out of going to war as a conscientious-objector, but was denied that status and so enlisted in the 82nd Infantry Division. He arrived in France in May 1918 for active duty on the Western Front. In September of that year, he took part in the successful Saint-Mihiel offensive and was promoted to corporal and given his own squadron to command.
What took place on October 8, 1918 was part of the Meuse-Argonne offensive, which was the last big allied push against the Germans on the Western Front during World War I. York and his men had the job of capturing German-held positions across a valley; after encountering problems, the small group of 17 men was fired upon by German machine guns from a nearby hill.
York described what happened next in his diary:
They killed all of Savage's squad; they got all of mine but two; they wounded Cutting and killed two of his squad; and Early's squad was well back in the brush on the extreme right and not yet under the direct fire of the machine guns, and so they escaped. All except Early. He went down with three bullets in his body. That left me in command. I was right out there in the open.

And those machine guns were spitting fire and cutting down the undergrowth all around me something awful. And the Germans were yelling orders. You never heard such a 'racket in all of your life. I didn't have time to dodge behind a tree or dive into the brush, I didn't even have time to kneel or lie down.

I don't know what the other boys were doing. They claim they didn't fire a shot. They said afterwards they were on the right, guarding the prisoners. And the prisoners were lying down and the machine guns had to shoot over them to get me. As soon as the machine guns opened fire on me, I began to exchange shots with them.

I had no time nohow to do nothing but watch them-there German machine gunners and give them the best I had. Every time I seed a German I jes teched him off. At first I was shooting from a prone position; that is lying down; jes like we often shoot at the targets in the shooting matches in the mountains of Tennessee; and it was jes about the same distance. But the targets here were bigger. I jes couldn't miss a German's head or body at that distance. And I didn't. Besides, it weren't no time to miss nohow.

I knowed that in order to shoot me the Germans would have to get their heads up to see where I was lying. And I knowed that my only chance was to keep their heads down. And I done done it. I covered their positions and let fly every time I seed anything to shoot at. Every time a head come up I done knocked it down. Then they would sorter stop for a moment and then another head would come up and I would knock it down, too. I was giving them the best I had.

I was right out in the open and the machine guns [there were over thirty of them in continuous action] were spitting fire and cutting up all around me something awful. But they didn't seem to be able to hit me. All the time the Germans were shouting orders. You never heard such a racket in all of your life. Of course, all of this only took a few minutes. As soon as I was able I stood up and begun to shoot off-hand, which is my favorite position. I was still sharpshooting with that-there old army rifle. I used up several clips. The barrel was getting hot and my rifle ammunition was running low, or was where it was hard for me to get at it quickly. But I had to keep on shooting jes the same.

In the middle of the fight a German officer and five men done jumped out of a trench and charged me with fixed bayonets. They had about twenty-five yards to come and they were coming right smart. I only had about half a clip left in my rifle; but I had my pistol ready. I done flipped it out fast and teched them off, too.

I teched off the sixth man first; then the fifth; then the fourth; then the third; and so on. That's the way we shoot wild turkeys at home. You see we don't want the front ones to know that we're getting the back ones, and then they keep on coming until we get them all. Of course, I hadn't time to think of that. I guess I jes naturally did it. I knowed, too, that if the front ones wavered, or if I stopped them the rear ones would drop down and pump a volley into me and get me.

Then I returned to the rifle, and kept right on after those machine guns. I knowed now that if I done kept my head and didn't run out of ammunition I had them. So I done hollered to them to come down and give up. I didn't want to kill any more'n I had to. I would tech a couple of them off and holler again. But I guess they couldn't understand my language, or else they couldn't hear me in the awful racket that was going on all around. Over twenty Germans were killed by this time.

–and I got hold of the German major. After he seed me stop the six Germans who charged with fixed bayonets he got up off the ground and walked over to me and yelled "English?"

I said, "No, not English."

He said, "What?"

I said, "American."

He said, "Good —–!" Then he said, "If you won't shoot any more I will make them give up." I had killed over twenty before the German major said he would make them give up. I covered him with my automatic and told him if he didn't make them stop firing I would take off his head next. And he knew I meant it. He told me if I didn't kill him, and if I stopped shooting the others in the trench, he would make them surrender.

So he blew a little whistle and they came down and began to gather around and throw down their guns and belts. All but one of them came off the hill with their hands up, and just before that one got to me he threw a little hand grenade which burst in the air in front of me.

Alvin York Statue I had to tech him off. The rest surrendered without any more trouble. There were nearly 100 of them.

So we had about 80 or 90 Germans there disarmed, and had another line of Germans to go through to get out. So I called for my men, and one of them answered from behind a big oak tree, and the others were on my right in the brush.

So I said, "Let's get these Germans out of here."

One of my men said, "it is impossible."

So I said, "No; let's get them out."

So when my man said that, this German major said, "How many have you got?" and I said, "I have got a-plenty," and pointed my pistol at him all the time.

In this battle I was using a rifle and a .45 Colt automatic pistol.

So I lined the Germans up in a line of twos, and I got between the ones in front, and I had the German major before me. So I marched them straight into those other machine guns and I got them.

The German major could speak English as well as I could. Before the war he used to work in Chicago. And I told him to keep his hands up and to line up his men in column of twos, and to do it in double time. And he did it. And I lined up my men that were left on either side of the column, and I told one to guard the rear. I ordered the prisoners to pick up and carry our wounded. I wasn't a-goin' to leave any good American boys lying out there to die. So I made the Germans carry them. And they did.

And I takened the major and placed him at the head of the column and I got behind him and used him as a screen. I poked the automatic in his back and told him to hike. And he hiked.

The major suggested we go down a gully, but I knew that was the wrong way. And I told him we were not going down any gully. We were going straight through the German front line trenches back to the American lines.

It was their second line that I had captured. We sure did get a long way behind the German trenches! And so I marched them straight at that old German front line trench. And some more machine guns swung around and began to spit at us. I told the major to blow his whistle or I would take off his head and theirs too. So he blew his whistle and they all surrendered– all except one. I made the major order him to surrender twice. But he wouldn't. And I had to tech him off. I hated to do it. I've been doing a tolerable lot of thinking about it since. He was probably a brave soldier boy. But I couldn't afford to take any chances and so I had to let him have it.

There was considerably over a hundred prisoners now. It was a problem to get them back safely to our own lines. There was so many of them there was danger of our own artillery mistaking us for a German counter-attack and opening up on us. I sure was relieved when we run into the relief squads that had been sent forward through the brush to help us.

On the way back we were constantly under heavy shell fire and I had to double-time them to get them through safely. There was nothing to be gained by having any more of them wounded or killed. They done surrendered to me and it was up to me to look after them. And so I done done it.

So when I got back to my major's p.c. I had 132 prisoners. We marched those German prisoners on back into the American lines to the battalion p.c. (post of command), and there we came to the Intelligence Department. Lieutenant Woods came out and counted 132 prisoners. And when he counted them he said, "York, have you captured the whole German army?" And I told him I had a tolerable few…

The next morning Captain Danforth sent me back with some stretcher bearers to see if there were any of our American boys that we had missed. But they were all dead. And there were a lot of German dead. We counted twenty-eight, which is just the number of shots I fired. And there were thirty-five machine guns and a whole mess of equipment and small arms.

The salvage corps was busy packing it up. And I noticed the bushes all around where I stood in my fight with the machine guns were all cut down. The bullets went over my head and on either side. But they never touched me.

So you can see here in this case of mine where God helped me out. I had been living for God and working in the church some time before I come to the army. So I am a witness to the fact that God did help me out of that hard battle; for the bushes were shot up all around me and I never got a scratch… I say that He did save me. Now, He will save you if you will only trust Him.
York was soon promoted to sergeant, and remained on the front lines until ten days before the armistice. In April 1919, he was awarded the Congressional Medal of Honor, the highest American military decoration.
He went on to found a school for needy children in rural Tennessee called the York Industrial Institute.
If you liked this article, you might also enjoy our new popular podcast, The BrainFood Show (iTunes, Spotify, Google Play Music, Feed), as well as:
Expand for References