Mexico is Really Called the United Mexican States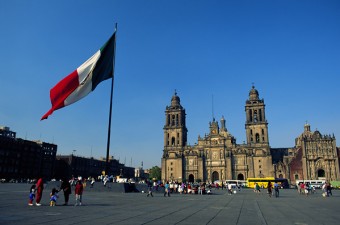 Today I found out that Mexico is really called the United Mexican States or Estados Unidos Mexicanos.  Specifically, there are thirty one states in the UMS, with 111 million people making it the 11th most populated country in the world.
The United Mexican States was originally called "New Spain" around the time they won their independence from Spain.  They then decided to name the country after the capital city, Mexico City, which was originally founded in 1524 at the same location as the Aztec capital, Mexico-Tenochtitlan.
Interestingly, the original meaning of this name is not known, though it is known it is from the Nahuatl language.  A variety of theories have been suggested about it's meaning though.  One of the most popular is that it is derived from the secret name for the Aztec god of war, Mexihtli or Huitzilopochtli, "Place where Mexihtli lives".
The name of the country has also changed as the government has changed.  Two other names the United Mexican States have gone by are (in English): the Mexican Empire and the Mexican Republic.
Bonus Facts:
"Tenochtitlan" comes from the Nahuatl "tetl", meaning "rock", and "nochtli", which means something to the effect of "prickly pear".  Thus, it more or less means "at the place near rock-cactus-fruit".
Words that have come to the English language via the Nahautl language include: tomatoes (tomatl); chocolate (chocolatl); and avacados (ahuacatl).
One of the many ways the Aztecs would chose who was to be sacrificed to keep the sun moving (by giving it human blood) was to play a ball game called tlachtli, which is thought to have been something like racquetball, though the rules of the game are not precisely known.  At the times when this game was used to pick who was sacrificed, the loser would be sacrificed to the gods.
Because Mexico City is built on a lake, it is sinking at around 8 inches per year.
The first major civilization in Mexico is thought to be the Olmecs beginning around 1400 BC to around 300 BC.
The Mayan's once had a "hornet bomb" weapon, which is pretty much exactly what you'd think.  They would take a hornet's nest and throw it at enemies in battle, very sophisticated.
Expand for References: