The Forgotten Plague- DANCE MANIA!!!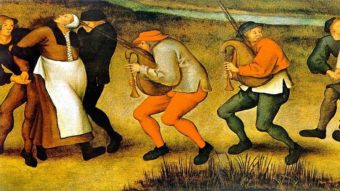 In this episode of The Brain Food Show, we skip the quick fact because this one took forever to research and put together and I ran out of time. 😉 Instead we jump right into the main topic which is a very real phenomenon that popped up off and on for several hundred years called Dance Mania or St. Vitus' Dance. While it might sound like a bit of a joke, it was surprisingly deadly at times and had a fascinating cure.
We then look at the probable cause of this phenomenon, along with many other similar ones, including a couple in modern times, that all seem to have the same root.
On another note, if you could do us a huge favor and rate and review this show in whatever podcasting platform you're using (including hopefully giving us some feedback related to the new format), we would be extremely grateful. Thanks!
(You can also discuss this episode and view references on The BrainFood Show forum here.)
Don't miss future episodes of this podcast, subscribe here: iTunes | Spotify | Google Play Music | Stitcher | RSS/XML
You can also find more episodes by going here: The BrainFood Show
Podcast (brainfood): Play in new window | Download (Duration: 58:40 — 80.6MB) | Embed
Subscribe: Apple Podcasts | Android | Google Podcasts | Stitcher | RSS