Clifford the Big Red Dog was Originally Going to be Named Tiny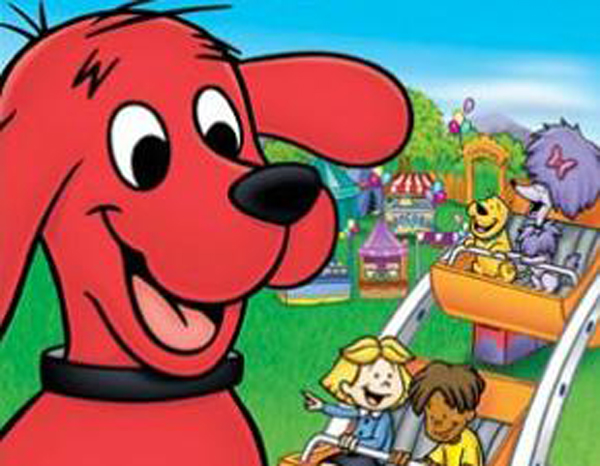 Today I found out Clifford the Big Red Dog was originally going to be named "Tiny".
Most of us know the story of Clifford the Big Red Dog: being born the runt of a litter of puppies; no one expected him to grow very big, but when Emily Elizabeth chose him as her friend, she gave so much love to her tiny ball of fur that he grew over 25 feet tall. Thus, the start of a whole set of adventures for the young girl and her big red dog.
The author of this beloved children's series is Norman Bridwell. He discovered early on that he was not good at sports or shop class, and even though his teachers told him he wasn't a very good artist, Norman spent a good portion of his free time drawing, because he loved it. After studying art at the John Herron Art Institute and Cooper Union, another art school, he became a commercial artist.
In 1962, in the attempt to supplement his income to support his wife and daughter, Bridwell created a portfolio of his drawings and approached children's book publishers with a goal of becoming a book illustrator. Fifteen publishing houses later, Bridwell still did not have any offers to illustrate books. An editor at Harper & Row told him that his art was not good enough, and she couldn't see anyone offering him an opportunity to illustrate books. However, she did pick out one of his sketches–one of a young girl on the back of a horse-sized bloodhound–and told him to write a story to go along with his picture.  Bridwell did as she suggested.
As a boy, Bridwell dreamed of owning a big dog that he could ride and have as his best friend. So, he enlarged the dog in the picture, transformed him into more of an "all-around" dog, and wrote a story about the dog and his young girl companion. When it came time to name his characters, Bridwell decided on the name the dog "Tiny", but his wife, Norma, told him the name was boring. Cherishing memories of her childhood imaginary friend, Clifford, she proposed this name instead, which he ultimately went with.  Bridwell decided to name his young girl protagonist Emily, after his daughter.
Three days after his discussion with the editor at Harper & Row, Bridwell submitted the manuscript and drawings to Scholastic without expecting anything to come out of it (he was quite used to rejection at this point). Three weeks later, Scholastic offered to publish Bridwell's first book, Clifford the Big Red Dog. Not wanting to get his hopes up, he told his wife the book was a fluke and she shouldn't expect any other books to follow.  Forty Clifford books later, with over 44 million copies in print, including those translated into other languages, Bridwell is now a best-selling author-illustrator.  Not bad for a for a guy who was never considered very good as a writer or illustrator in school.
What inspires Bridwell's story ideas? Dogs- his dogs, dogs in movies, dogs in stories, dogs everywhere. They are, after all, an undeniable source of entertainment. Thanks to this, Bridwell has had plenty of stories to tell about Clifford and Emily Elizabeth, and, in 1970, he was making enough money from the series and other children's books he wrote and illustrated that he was able to give up his other commercial artwork career. While Bridwell's books about Clifford have never been well embraced by critics, millions of young readers love Bridwell's stories and artwork.When asked why kids love the stories of Clifford and his adventures, Bridwell said this about the big red dog, "He makes mistakes, he's clumsy, he's not perfect. But he's always forgiven because he means well."
Just think, if Bridwell listened to his school teachers when they told him he wasn't a very good artist or writer, or if he succumbed to discouragement when children's publishing companies piled on the rejections, Clifford may have never found his way in the world of children's literature, and without Bridwell's wife and her imaginary friend, Clifford, the world probably would've known the beloved canine as Tiny, the Big Red Dog.
Bonus Facts:
Despite the huge success of Clifford and having over 60 published books to his name, Bridwell has had another 120 books rejected (including various Clifford titles).
In addition to the Clifford series, Norman Bridwell is also the author of the series, The Witch Next Door and A Tiny Family. He has a total of over 126 million copies of his books in print and they are translated in 13 different languages.
Clifford the Big Red Dog, the first book in the series, was originally published in 1963.
Norman Bridwell is originally from Kokomo, Indiana.
In celebration of Norman Bridwell's birthday in 2009, the Kokomo-Howard County Public Library invited the community to come celebrate Norman Bridwell's birthday at the Clifford's Big Red Event. The library obtained photos of Bridwell and his family for an exhibit entitled, Never Give Up on Your Dreams. Bridwell gave permission for the photos to be included in the Howard County Memory Project's digital collection by the Genealogy & Local History Department.
The adventures of Clifford the Big Red Dog inspired a television show produced by Scholastic Studios and shown on PBS, which aired from 2000 to 2003. There were a total of 68 half-hour cartoons about Clifford, and some PBS stations still air the series. John Ritter was the voice of Clifford in all the television episodes. Days after PBS aired Clifford's Puppy Days in 2003, John Ritter died.
Clifford books are used by teachers everywhere to teach young children valuable lessons of friendship, forgiveness, responsibility, team work, honesty, kindness, helping others, and believing in yourself.
Words of wisdom Bridwell shares with aspiring authors and illustrators of children's books: "Write about what makes you feel good. And don't get discouraged if you get rejected."
Expand for References