"Billy the Kid's" Real Name was Not William H. Bonney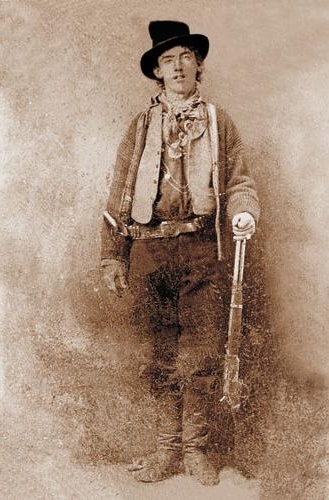 Myth: Billy the Kid's real name was William H. Bonney
William H. Bonny is actually another alias of Billy the Kid, used during the height of his notoriety, but it is not generally considered his real name. Throughout his life, several different names were associated with this 19th century outlaw and gunman, including:
William Henry McCarty, Jr. – Billy the Kid's official birth name.
Henry Antrim – In 1873, Henry's mother married a man named William Antrim. To avoid confusion with two Williams in the family, Billy the Kid's mother started calling him by his middle name, Henry, and the boy took on his stepfather's last name.
William H. Bonney – In 1877, Henry Antrim started using William H. Bonney as an alias after he murdered Frank "Windy" Cahill, and escaped to New Mexico to avoid a death sentence. Although the reason for the name "Bonney" is unknown, some speculate that this was his biological father's name before his mother married a man named McCarty, who may or may not have been his biological father (not much is known of his biological father). McCarty may also have been his mother's maiden name.
The Kid – Many of his associates nicknamed him "The Kid" because of his youthfulness and slender build.
Billy the Kid – In 1880, during the final year of his life, newspaper reporters and dime novelists, who often embellished stories about the young outlaw, started referring to him as Billy the Kid. Billy, of course, was used as a nickname for William. As the legend of "The Kid" circulated, so did the nickname that most people know him as today: Billy the Kid.
Thus, William H. McCarty, Jr. is considered Billy the Kid's real name, not William H. Bonney.

Bonus Facts:
Throughout his life, in his pursuit to earn a living, Henry worked in a butcher shop and in a hotel where he washed dishes and waited tables. He also earned money as a ranch hand, gambler, horse thief, and outlaw.
Based on the only known photo of Billy the Kid, most people thought he was left-handed because his gun was positioned on his left side. Only after discovering that the photo was actually a reversed image, did people realize he was right-handed.
Despite being known as a cold-blooded killer with a short and violent temper, McCarty was reportedly widely liked by those who knew him. He supposedly had a laid-back attitude and a great sense of humor.
Henry was often targeted for bullying because of his slender build.
Billy the Kid was known to use the Colt single action .44 and Colt double-action .41 caliber called the "Thunderer." He may have also used the .38 caliber version called the "Lightning." The weapon he favored, however, was the Winchester 73' rifle.
Billy the Kid's legend claims he killed 21 men in his lifetime–one for every year of his life (if he indeed lived to actually see his 21st birthday)–when in truth, history can only account for four: Frank Cahill (self-defense), Joe Grant (self-defense), and James W. Bell and Bob Olinger–jail guards he shot as he escaped from his hanging sentence for the murder of Sheriff Brady. Although five other deaths are associated with his name, Billy the Kid was merely part of the group that killed them, though the bullets from his gun may not have been the killing shots.
Billy the Kid was most known for his involvement in the Lincoln County War. The Lincoln County War was fueled because of a business feud between James Dolan and John Tunstall. Recruited to fight for Tunstall, Henry developed respect and loyalty for the older man, so when the feud between Dolan and Tunstall escalated into bloody violence and Tunstall was killed, Tunstall's ranch hands, the Kid included, formed a vigilante group called "the Regulators" to take revenge on Tunstall's killers.
Billy is said to have loved books and music, and some say he was quite a good singer.
The youngster rarely drank liquor. He didn't smoke, but he loved to gamble.
Henry spoke fluent Spanish and was quite the lady's man, especially among Hispanics.
His mother died of tuberculosis in 1874 when he was only fourteen or fifteen years old. Henry spent time in foster care and in a boarding house since his step-father wanted nothing to do with him, and the teenager was forced to pursue odd jobs to earn a living.
Most noticeable apparel: A Mexican sombrero.
After being thrown in jail for helping a friend hide stolen laundry, Henry escaped by climbing up the chimney.
Around 16 years of age, Henry engaged in an argument with a bully named Frank "Windy" Cahill, who had a history of beating the scrawny teenager. When the fight turned violent, the Kid managed to free his gun and shoot Cahill. This was the first person he killed. As an outlaw and fugitive, he was unable to find honest work to support himself and reluctantly joined a gang as a means to survive in the hostile and lawless territory.
In the attempt to explain this young outlaw's descent into a life of crime and violence, some say he was influenced by the dime novels he read which romanticized crime. Others attribute his lifestyle to the fact that he was often a target for bullying and fell in with the wrong crowd. He was often seen as a impressionable individual who was influenced by those he associated with, either for good or bad.
In 1881, Billy the Kid was captured by Pat Garrett, the Lincoln County Sheriff, for his involvement in the Lincoln County War, and he was found guilty of killing Sheriff Brady. The Kid was the only one convicted and punished over the events of the war. Billy the Kid added two more murders to his record when he shot and killed his two jail guards, James W. Bell and Bob Olinger, in order to escape a death penalty for murder. From here, the Kid was a wanted man.
Although some say Billy the Kid died when he was 21 years old, since no one can confirm his birthday actually occurred in 1859, the Kid may have only been 18-20 years old when he died.
Most of what the general public knows about Billy the Kid today, holds no truth. He is considered one of the most misunderstood historical figure of the Old West, probably because of the amount of myths associated with his name and life.
Billy the Kid is known as the Old West's most favorite outlaw.
Expand for References