GoDaddy Office 365 Giveaway
This is a Sponsored post written by me on behalf of
GoDaddy
for
SocialSpark
. All opinions are 100% mine.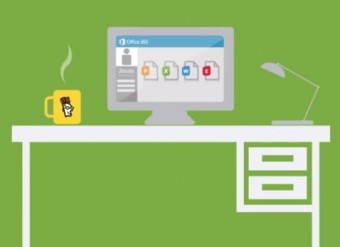 Are you a small business owner? GoDaddy has been kind enough to give us a 1-year Office 365 Business Essentials plan to give away to one of you, along with a free .COM, .NET, or .ORG domain.  All you have to do to enter to win is leave a comment below letting me know how Office 365 can help you better manage your business!
For those not familiar, Office 365 from GoDaddy lets you use Word, Excel, PowerPoint, etc. online from any device without needing to constantly transfer files around or the like.  Your files will be available to you anywhere you are via your phone, tablet, or desktop.
The highlights of what you can do with Office 365 from GoDaddy include:
Unlimited, professional looking email addresses at your own domain name (for example, [email protected])
Microsoft Office Online + Office mobile apps for your iPhone, Android, or Windows Phone.
Microsoft Office Desktop on up to 5 computers per Productivity Plus plan, with free updates for life; so no need to continue to shell out additional license fees every time a new version of Office comes out.
HD Video conferencing with up to 250 people both inside and outside of your business using Lync.
Online cloud storage, making sure all your most important documents are always automatically backed up on secure servers. No more losing all your documents when your hard drive crashes.
99.9% guaranteed uptime and reliability
Outlook web application
and more
You get all of this without the need for you to have an IT department to manage such a complex system.  It's easy and very quick to setup. And after that, it just works. Should you ever happen to run into an issue somewhere or just have a question about something, Office 365 from GoDaddy also comes with 24/7 support from real experts.
Further, with the desktop suite, there's no need to have an internet connection to keep working.  If you lose the internet for a while, simply keep working and when your device re-connects, your files will be automatically synced to the cloud.
So those are the highlights.  I haven't yet tried out all the features of Office 365 from GoDaddy, but have been using it for a while and it really is as easy as they describe to setup and use. And even if you don't win the contest, the prices for any of their plans are extremely reasonable, especially when you look back and start remembering the crazy high licensing prices not that long ago you'd have to pay for Microsoft's Office suite.  This system makes it cheap and adds a ton of handy features to boot.
In any event, as mentioned if you're interested in getting a 1-year Office 365 Business Essentials plan for free along with a free domain for a year, leave a comment letting me know how Office 365 can help you better manage your business!  One commenter will be chosen a winner.
If you don't win, or simply don't want to wait, you can check out the plans for yourself on GoDaddy here: Office 365 from GoDaddy