Lenovo IdeaPad Yoga Windows 8 Laptop/Tablet Hybrid
This is a Sponsored post written by me on behalf of Lenovo for SocialSpark. All opinions are 100% mine.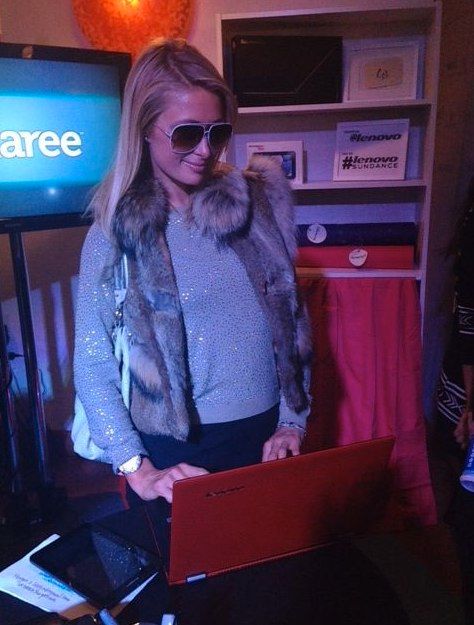 Lenovo was just recently a sponsor at the Sundance Film Festival at which Paris Hilton (pictured right), Corey Feldman (pictured below),  Lil Jon, and others showed off the new Yoga computer which is more or less a nice little tablet/laptop hybrid, using a 360 degree flip and fold design to switch between using it laptop style or just as a straight tablet. (You can see the Lenovo at Sundance here). The Yoga can also be hinged halfway open to set it so it more or less stands up, picture-frame style, which is convenient for watching movies or the like.
For the specific specs, the Yoga 13 features:
Up to 3rd generation Intel® Core™ i7 processor
Windows 8 or Windows 8 Pro
13.3″ Ultrabook™ with an HD+, IPS display (1600×900) (Dimensions: 333.4 x 224.8 x 16.9 mm (13.1 x 8.9 x 0.67″))
Starting at 3.4 lbs
Up to 8 hours' battery life
Up to 128GB SSD storage, with 256GB coming soon
Up to 8GB memory
Intel® HD Graphics 4000
2 USB ports, an HDMI port, a 2-in-1 card reader (SD/MMC), and a Combo jack
Approximately 8 hours of battery life
The primary advantage of the Yoga over traditional tablets is of course the built in physical keyboard and the heavy duty 3rd generation i7 processor. It also features Windows 8, so is compatible with all the software most people are used to using on desktops and laptops.
Obviously the tradeoff to get the laptop functionality is that it's a bit thicker than many tablets today at 16.9 mm (compared, for instance, to the iPad 4's 9.4mm thickness), but of course you're getting a physical keyboard and some other nice things to go along with it, which for me is always the big drawback of tablets.  I hate typing on touchscreen keyboards.  On the flip side, as a laptop, it's ridiculously thin, even amazingly thin for a laptop/tablet hybrid.
I'm also a huge fan of the SSD storage.  If you're used to using old style spinning platter drive (which is what most use in their desktop/laptops, and even in some tablets), you're in for a treat when you experience using an SSD drive, in terms of the amazing performance boost.  The data storage device has been the bottleneck for speed on computers since the first electronic general purpose computer, and that hasn't gotten much better with time as processors, bus speeds, and main memory have gotten faster at a rate consumer hard drives haven't even come close to being able to keep up with.
When you're using your computer and it suddenly freezes for a few seconds, 9 times out of 10, this is the computer waiting for something on the hard drive.  There's also the fact that spinning platter hard drives have a much greater chance of failure in laptops and tablets than SSD's as the spinning platter drives get bumped and jostled around.  So the choice to go with an SSD on the Yoga was a great one.
In any event, you can see the Yoga in action in the video below, and look at more detailed specs on different models, check out images, and purchase it here: Lenovo IdeaPad Yoga – MUST SEE!