Gorilla Conferencing Review
This is a Sponsored post written by me on behalf of Gorilla Conferencing for SocialSpark. All opinions are 100% mine.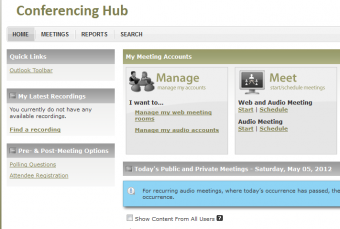 Given that I live more or less on the edge of the middle of nowhere at the foothills of the Cascades and just about no one I ever hire to work on this site or others I own lives anywhere near me, from time to time I have need to do "web conferences", which in reality usually just means me sending a flurry of overly long emails, which could be more concise and save a boatload of time if I actually bothered to do a real web conference.  As such, when Gorilla Conferencing approached me to do a sponsored article reviewing their product, I figured I might as well give them a try and see how it goes and while I don't particularly have need to use all the features their service offers, overall it seems like a pretty solid platform for conferencing.
Some specific notable features Gorilla Conferencing offers with their Audio and Web Conferencing service are:
Ability to record conferences, which can then be rebroadcast at any time.
Live translation, not only for audio conferences, but also for document translation.  They can also translate any recorded conference.
Transcriptions of the conference.
No restrictions on the number of people that can join a conference.
Ability to join or start a phone conference call from any phone.
Secure conferences, including the ability for moderators to add extra layers of security using security codes.
Ability to have all the non-moderators in the conference placed on hold until the conference starts, so that it won't start before you get there.
Ability to bring in an operator instantly if at some point you have a problem during the conference.
Ability to mute participants.
Real time polling capabilities during a conference.
Conferencing and operators available 24/7.
Toll free
Ability to share your computer desktop, documents, etc.
Overall Gorilla Conferencing seems to work well with no hiccups when I used it.  Setting up a web conference was fairly straight forward and the "sharing the desktop" feature was particularly handy for showing someone how to do something on the administrative pages for this website.  Normally, I have to write detailed instruction emails that take forever or sit on the phone and try to walk someone through something that way, which sounds simple, but is often quite frazzling. 🙂  This is significantly faster and easy to setup and the people on the other end need not be techy to join on, which can often be an issue with other "share your desktop" platforms I've seen.
Although I didn't use it when testing, I think the real time polling could be particularly handy when conferencing with different writers and getting suggestions from them all at once and the like.  The translation service also peaked my interest as I've had in the past someone writing for me from the Ukraine whose English wasn't the best, but she was a phenomenal researcher and crazy smart (with a PhD and all), so being able to conference with her in her native tongue would have been handy at times.
I didn't really find much about the way their system works to complain about.  The hardest part for me was just figuring out how to access the web interface in the first place to set things up.  I spent about 10 minutes searching and scanning around on their website for a "sign in" type button and never found it.  At that point, I begrudgingly actually read the instructions they sent me and within about 30 seconds of starting doing that I found myself in the correct place and logged in.  Apparently I should have read the instructions in the first place. 😉  After that, though, I didn't need the instructions to figure out how to use the system, as it was all pretty straightforward.
Although I didn't have to pay to try it out and play around with it to see what I thought, the service of course does cost normally.  I don't really personally have much experience with using such a feature rich conferencing platform, so I can't attest to how the price compares to other such services, but it seems pretty reasonable for what they're offering.  Depending on whether you pick "pay as you go" or one of their monthly plans, the price ranges from (for audio) 4.9 cents per minute (pay as you go) down to 2.5 cents per minute for their top Monthly plan.  Then if you want to add in Web and Video Conferencing, it's 7 cents per minute on top of the base plan.
If you're interested in giving them a try, check them out here: Gorilla Conferencing