Scotts Snap Spreader System Giveaway
This is a Sponsored post written by me on behalf of Scotts® for SocialSpark. All opinions are 100% mine.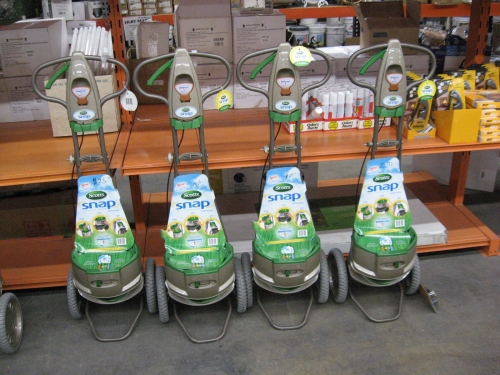 It's about that time of year again to fertilize your lawn.  To help people towards this end, Scotts® is giving away Scotts® Snap® Spreader Systems to 20 people, one from Today I Found Out. All you have to do to enter this contest is simply leave a comment on this article as to why you want or need a Scotts® Snap® Spreader System and then go to their FACEBOOK page and like it (I believe they're also giving away other prizes for people who like their Facebook page through their Snap Perks on Facebook Program).  In any event, this particular contest ends on April 30th at 11:59 p.m. EST.  Winners will be notified via email by May 3rd.  For the complete rules and terms of this contest, go here: contest rules
If you haven't seen the Scotts® Snap® Spreader System, it's similar to other spreader systems with some notable differences.  First, it has an edge guard switch that allows you to stop the spreader from spreading fertilizer on areas you don't want, such as when you're spreading near your driveway where fertilizer pellets can stain your pavement.  The spreader system also automatically sets the proper flow rate.
The most intriguing feature of the Scotts® Snap® Spreader System  is that instead of cutting the bag and pouring the fertilizer into the spreader, which can often result in spills (sometimes with it getting on your patio pavement and severely staining it… ya, I did that once much to my wife's chagrin, but in truth it was her dog's fault; the dog jumped on me while I was pouring…) 🙂  With this system, though, you just place the bag in the spreader, uncut and unopened.  The spreader then takes care of opening it for you.  When you're done using it, you pull the bag out, even if it still has fertilizer in it, and it will self seal for storage.  I'm not sure with what wizardry they accomplish this, but as they're sending me one to review, I'll be examining how that works closely and will update you on it then.
Bonus Facts:
You should almost never bag lawn clippings.  The lone exception to this is when you have a lawn disease.  In that case, picking up clippings can reduce the spread of whatever fungus is causing the problem.  In all other cases, you should leave the clippings in the lawn to promote lawn health.  Leaving the clippings provides as much as 1/3 of the nutrients needed by your grass in a given year.  It also provides food for your local worm population, allowing the population size to grow bigger than it would have otherwise.  This may not sound appealing to some, but a good worm population will result in healthy soil and growing environment for plants. Also, the larger the population, the faster your clippings will disappear from your lawn floor.  With enough worms, combined with the clippings losing their water content, your lawn clippings can literally disappear overnight, with the nutrients going back into the soil.
Earthworms can consume about 1/2 to 1 times their body weight every day.  They also will eat just about any dead organic matter along with processing a variety of types of garbage and even tiny rocks that have organic matter on them, grinding the rocks into a paste that will enrich the soil.  They are quite literally nature's garbage disposals.  They also force air through the underground tunnels they create, thereby aerating the soil as they work.  In the process of doing all this, they process and enrich the soil; they aren't just nature's garbage disposals, but also natural gardeners.
Earthworms not only work tirelessly throughout their lives cultivating and fertilizing soil for plants to grow, but also form the basis of many food chains.  They are a staple for many types of birds, snakes, moles, hedgehogs, beetles, snails, slugs and also are eaten by a variety of mammals such as foxes, bears, and others, providing essential nutrients to those animals.  Charles Darwin went so far as to say of earthworms, "It may be doubted whether there are many other animals which have played so important a part in the history of the world, as have these lowly organized creatures."  He believed that earthworms are wholly responsible for the top layer of rich soil on the Earth.
While earthworms do a bang up job at taking care of soil, they actually do too good of a job in forests.  This can actually, over time, kill the forest.  All the fallen dead leaves and other decomposing vegetation in the forest are essential for many tree seeds to germinate.  The worms process this quickly, leaving the forest floor bare.  This also changes the drainage of the forest, hurting some existing trees.  This is a major problem in forests such as in Rhode Island and Minnesota, which had previously been worm free since the ice age; with the arrival of the worm, it is changing the ecosystem of these forests.   Worms in forest = bad, worms everywhere else = good. 🙂
According to research done at the Rothamsted Experimental Station, depending on soil quality, there can be anywhere from 250,000-1.75 million earthworms per acre of land.  Poor quality soil with few food sources will have closer to the 250,000 range; good quality soil, such as farm land, will have closer to the 1.75 million worms per acre.  This means that on an average farm with livestock, the weight of the worms beneath the surface of the land will likely outweigh the livestock that walk on top.  What makes this more incredible is that a typical garden variety of earthworm can process about 10 pounds of organic material per worm per year.  That's a lot of free enriched soil.
Another thing you can do to keep your lawn healthy, besides leave the grass clippings, is to mow with your mower at its highest setting.  Keeping taller grass makes your lawn look better (grass will look thicker and stay greener in hot times); keeps the ground shaded to reduce the chances of various weeds taking root and keeps the ground cooler which helps the grass stay healthy in the dog days of summer.  Finally, it results in the grass developing a deeper root system, which also helps it stay healthy despite possible heavy foot traffic or drought.
The best times to fertilize your lawn are in early spring (February-April) when the grass emerges from its dormant stage and begins to grow, then from June to August when the weather is especially hot, and finally in the fall right before the grass goes dormant.  Many lawn care experts say this finally feeding in the fall is the most important time to fertilize your lawn.
Scotts Miracle-Gro Company was founded way back in 1868 by Orlando Scott who was also a Civil War veteran.  It was originally named O.M. Scott and Sons Company and they started out selling premium seeds for farmers.  They didn't expand into selling grass seed until the early 20th century.  Today  Scotts grosses nearly $3 billion annually with a net income of around $167 million and employing over 8000 people.
References: