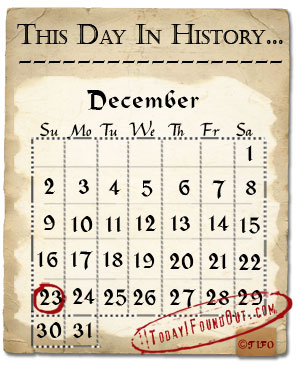 This Day In History: December 23, 1823
On this day in history, 1823, the poem A Visit from St. Nicholas, better known today as The Night Before Christmas or 'Twas the Night Before Christmas was first published.  The poem first appeared in the New York Sentinel with no author listed, having been delivered for publication by a friend of Clement Clarke Moore, who was a professor of Greek and Oriental literature and who is generally considered today to have been the author.
Before this poem was published, traditions surrounding St. Nicholas were numerous with no real set, near universally accepted idea of "Santa Claus" like we have today.  As such, many of the Santa Claus traditions we have set today actually were popularized by this poem.  For instance: the names and number of Santa's reindeer (Dasher, Dancer, Prancer, Vixen, Comet, Cupid, Donder, and Blitzen, with the latter Donder and Blitzen meaning "Thunder" and "Lightning"); Santa's means of transportation; that Santa Claus visited houses on Christmas Eve, rather than Christmas Day;  the overall appearance of Santa Clause; and that Santa brought toys to children.
Interestingly, although Moore is probably the author of The Night Before Christmas, there is some debate as to whether it was, in fact, written by a relation of Moore's (distant relation through his wife), Major Henry Livingston, Jr.  Moore didn't claim authorship of the poem until much later after it was published, even going so far as to deny having penned it at times.  It is thought he was initially hesitant to claim it primarily because he was a scholar and didn't want to be associated with what is essentially a fantastical children's poem.  However, he was later convinced by his own children to include it in his 1844 anthology of his works and from then on claimed it as his own.  Given that he eventually claimed it and that it is known that the poem was delivered to the Sentinel by a friend of Moore's (who incidentally is known to have believed Moore wrote it), most historians accept that Moore was the author.
However, Major Henry Livingston, Jr.'s children claimed otherwise.  Twenty six years after the poem was first published, his children learned that Moore was taking credit for the poem.  They claimed their father used to recite the poem too them every year starting a full fifteen years before it appeared in the Sentinel, with the first time he read it to them being around 1807.  This story was also corroborated by a neighbor of the Livingston's.  Although, it should be noted that that neighbor also eventually married Charles Livingston, one of the sons of Major Henry Livingston, and was married to him at the time they were making these claims.  They also claimed to have once had a copy of the original manuscript, but that it was lost in a house fire.  Given the only "proof" the family had was their own story and that Livingston himself never claimed it, most scholars have not taken their claim seriously.
Whatever the case, the full poem is thus:
'Twas the night before Christmas, when all through the house
Not a creature was stirring, not even a mouse;
The stockings were hung by the chimney with care,
In hopes that St. Nicholas soon would be there;
The children were nestled all snug in their beds,
While visions of sugar-plums danced in their heads;
And mamma in her 'kerchief, and I in my cap,
Had just settled down for a long winter's nap,
When out on the lawn there arose such a clatter,
I sprang from the bed to see what was the matter.
Away to the window I flew like a flash,
Tore open the shutters and threw up the sash.
The moon on the breast of the new-fallen snow
Gave the lustre of mid-day to objects below,
When, what to my wondering eyes should appear,
But a miniature sleigh, and eight tiny reindeer,
With a little old driver, so lively and quick,
I knew in a moment it must be St. Nick.
More rapid than eagles his coursers they came,
And he whistled, and shouted, and called them by name;
"Now, Dasher! now, Dancer! now, Prancer and Vixen!
On, Comet! on Cupid! on, Donder and Blitzen!
To the top of the porch! to the top of the wall!
Now dash away! dash away! dash away all!"
As dry leaves that before the wild hurricane fly,
When they meet with an obstacle, mount to the sky,
So up to the house-top the coursers they flew,
With the sleigh full of toys, and St. Nicholas too.
And then, in a twinkling, I heard on the roof
The prancing and pawing of each little hoof.
As I drew in my head, and was turning around,
Down the chimney St. Nicholas came with a bound.
He was dressed all in fur, from his head to his foot,
And his clothes were all tarnished with ashes and soot;
A bundle of toys he had flung on his back,
And he looked like a peddler just opening his pack.
His eyes — how they twinkled! his dimples how merry!
His cheeks were like roses, his nose like a cherry!
His droll little mouth was drawn up like a bow,
And the beard of his chin was as white as the snow;
The stump of a pipe he held tight in his teeth,
And the smoke it encircled his head like a wreath;
He had a broad face and a little round belly,
That shook, when he laughed like a bowlful of jelly.
He was chubby and plump, a right jolly old elf,
And I laughed when I saw him, in spite of myself;
A wink of his eye and a twist of his head,
Soon gave me to know I had nothing to dread;
He spoke not a word, but went straight to his work,
And filled all the stockings; then turned with a jerk,
And laying his finger aside of his nose,
And giving a nod, up the chimney he rose;
He sprang to his sleigh, to his team gave a whistle,
And away they all flew like the down of a thistle.
But I heard him exclaim, ere he drove out of sight,
"Happy Christmas to all, and to all a good-night."
Expand for References